Looking for a new challenge?
Looking for a new challenge?
Tuesday, 16 May, 2017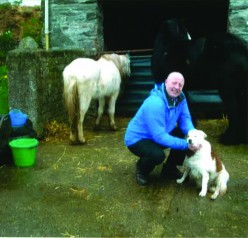 After thirty-one-years total service in the Army, London Ambulance Service and the Police, Peter Richards joined Minders Keepers and has had many wonderful experiences as a sitter in a variety of locations.
Peter Richards writes…
I retired to the normal euphoria of early beers in the pub, holidays when I wanted them and not when the roster allowed etc.
During a trip to the vet with a friend's cat I saw an advert for house/pet sitters to work in various locations throughout the UK. At this point I was getting bored with all the free time I had on my hands and started researching companies that employed sitters. I could only find three and contacted them all. My research led me to apply to Minders Keepers an agency based in Shepreth near Royston, Hertfordshire.
Following a vigorous interview and Police checks, I was accepted on the payroll. I have never regretted joining Minders Keepers and fully enjoy meeting new people and their animals in all parts of the UK.
Interesting locations
I have looked after Hunting lodges in Aberdeenshire, a Council House in Glasgow to a Mansion in Hampshire with use of the gym, two pools (indoor & Out)sauna, fishing lake and trout stream. I have had the pleasure of caring for all sorts of pets including Fish, Rabbits, Hens, Dogs, Goats, pigs and horses. Thankfully most of the time the animals are a pure delight to be with, however as with most living creatures they sometimes fall ill and a trip to the Vet is required.
I have looked after around two hundred animals and I have only had to take three to the vets. The clients get to trust you and often request you return when they need a sitter, which is an honour because you know you have done a good job and that is praise enough for me.
Clients trust sitters with a police background. This and my Army days
(Coldstream Guards) certainly help prepare me for most eventualities. One of my regular sits is on the Yorkshire dales with the nearest neighbours being over three miles away. I have been snowed in here on three occasions and there for several days. As such I always go with enough food in case the snow falls again. I have use of one of their four 4x4 cars for driving over the Dales.
I also have a regular sit on the outskirts of Cambridge city which is the complete opposite to the Yorkshire sit. I have access to theatres, fashion shops and all the trappings of sophisticated modern day living. Whenever I have had a problem or a query Jackie at the agency is full of experience and advice. You are never on your own. Jackie is always ready to take a phone call from the sitters. I would recommend sitting as a way of spending some of your downtime. For readers with pets I would also recommend a house-sitter rather than a kennels or a cattery. The animals do not have to endure the troubles of having to leave their usual environs.

For more information visit our website: www.minders-keepers.com