New contract award for Bristol Ambulance EMS
New contract award for Bristol Ambulance EMS
Thursday, 01 September, 2016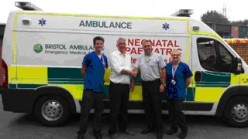 Bristol Ambulance EMS are pleased to announce that we have been awarded a new contract with University Hospitals Bristol NHS Foundation Trust, for provision of Neo-Natal and Paediatric Patient Transport. The new contract commences on the 1st of September 2016 for an initial period of five years, with options to extend further.
This is the second time Bristol Ambulance have been awarded this contract having successfully delivered this contract for many years, which is a tribute to our ambulance team, our control, our management and finance teams.
We are all very excited for another five years working with our colleagues in the NEST and WATCh transport teams.