Medi4 Ambulance crews deliver message in a bottle
Medi4 Ambulance crews deliver message in a bottle
Tuesday, 12 July, 2016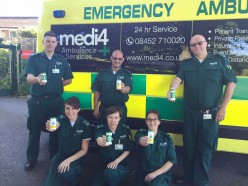 Medi4 Ambulance services crews are delivering the Message in a bottle to patients who use patient transport in Sussex.
The message in a bottle scheme is simple but vital and has been in existence for some time. The Lions who raise funds for charitable causes provide these bottles for free to patients, these are kept in the fridge and contain all the information a Paramedic would need in an emergency. Working in conjunction with the Lions Club or Great Britain & Coperforma the new patient transport provider in Sussex. We decided that the best way of getting them out into the community was to utilise our ambulance crews who were out in the Sussex area with the very people who may need them those who use the hospital transport. Our ambulance crews will now routinely check when they collect or return a patient home to see if they have a bottle. If they do not the crew will explain how the scheme works and issue a bottle to the patient.
Carl Penny operations director of Medi4 who is also a Paramedic explained 'This is vital information for an ambulance crew should the patient be unable to communicate'. We hope this will have a positive impact on the community and assist our colleagues in the 999 ambulance service with information should they need it in an emergency.