IAA announces GSM Finance as a new business partner
IAA announces GSM Finance as a new business partner
Tuesday, 05 July, 2016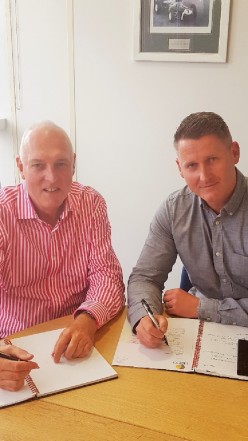 Alan Howson, Executive Chairman of the IAA and Roger Wood (GSM Finance) signing the agreement
The IAA is pleased to announce GSM Finance as a new business partner.
GSM Finance are an independent asset finance and leasing broker established in 1997, based in South West London. They have long standing relationships with over 30 banks, asset finance houses and leasing companies to enable to finance a wide range of assets used within the ambulance sector, providing flexible and competitive solutions to meet each customers' requirements.
"GSM have been funding new start and established ambulance companies since 2009. We have underwritten a wide variety of assets including front-line, bariatric, HDU, PTS and first responder vehicles, together with associated specialist equipment such as defibrillators, stretchers and hydraulic ramps." said Roger Wood, who negotiated the deal on behalf of GSM Finance.
Alan Howson from the IAA commented "This is an exciting step for the Association and our member organisations. GSM Finance clearly understand and are familiar with the sector and this arrangement opens the door to new conversations for all parties"