New CPD Opportunities at Free-To-Attend Emergency Services Show 21-22 September 2016, NEC, Birmingham
New CPD Opportunities at Free-To-Attend Emergency Services Show 21-22 September 2016, NEC, Birmingham
Friday, 17 June, 2016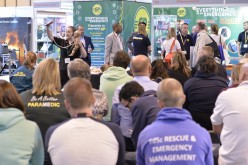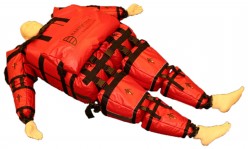 Free-to-attend for all staff levels within the Ambulance Service and private ambulance operators, The Emergency Services Show will return to the NEC, Birmingham from 21-22 September 2016. This year's event will include a new CPD-accredited Trauma Care Training & Education Zone, as well as an area dedicated to home safety featuring case studies from fire and rescue services who have expanded their preventative work into the health area. Around the exhibition there will be numerous opportunities to try out new equipment and network with other responders including voluntary organisations and NGOs, while the popular College of Paramedics CPD area has been expanded to allow for more participants.
Trauma Care & Education Zone:
Comprising CPD skills stations and a training suite where teams can compete to perform a primary survey under pressure, the interactive Trauma Care & Education Zone is open to anyone involved in pre-hospital care, with any skill level, at no cost.
Over the two days of the show, teams will compete for prizes in the inaugural Trauma Care Skills Challenge. The scenario-based test will take place in a fully immersive suite featuring world-leading technology with highly realistic, high-fidelity manikins and role models, and will be streamed live to visitors on screens outside the suite. To enter a team for the challenge, delegates must pre-register by 24th July 2016. Successful applicants will be provided with learning materials which they can add to their CPDme portfolios and use to prepare for the potential scenarios in the challenge.
Elsewhere in the zone, visitors can take advantage of free CPD skills stations to earn CPD certificates. Designed to be completed as a circuit, the four 20-minute skills stations will cover airway management, haemorrhage control, splinting and immobilisation and burns. Products and technology on the stations will include the new Introes™ Pocket Bougie, ThoraQuik Chest Decompression Device, VAR Vortran Automatic Resuscitator, WoundClot, Celox, iTClamp, Lewis Pelvic Applicator, XCollar, scoop stretchers and the new range of Water-Jel First Responder dressings. Places are available on a first-come first-served basis and most be booked in advance.
To book a place for the CPD Skills Stations or to register a team for the Trauma Care Skills Challenge visit http://www.traumacare.org.uk/ess-training-education-zone
College of Paramedics CPD Area
The College of Paramedics' CPD area has been expanded to enable more delegates to participate in the 30-minute bite-sized workshops covering breech birth, elderly patients, positive mental health, sepsis in obstetrics and seizure management. Speakers include Aimee Yarrington, Education and Training Officer, West Midlands Ambulance Service; Richard Steggall, Clinical Supervisor (Specialist Paramedic), South West Ambulance Service; Martin Berry, Teaching Fellow, Oxford Brookes University and Will Broughton, Honorary Paramedic, Paediatric Emergency Department, Imperial College Healthcare NHS Trust. No pre-booking is required and all those attending will be provided with CPD certificates.
Home Safety 2016
Within Home Safety 2016, Emergency Services will be sharing how they are collaborating to deliver a joined up approach to helping people live safely in their homes, and equipment suppliers will showcase the very best specialist equipment the market has to offer for the safe home. Speakers will include a number of fire and rescue services who have expanded their work into the health area by working alongside the NHS, as well as partnering other agencies such as Age UK and the Alzheimer's Society. Humberside Fire and Rescue Service for example will explain how it has been working with Hull Clinical Commissioning Group to make real difference in the area of slips, trips and falls. The role of data and research in targeting prevention and changing people's behaviours will also be covered.
Exhibition: One-Stop Shop
Over 450 exhibiting companies and organisations will be showcasing the latest solutions in communications, emergency medical care, protective clothing and uniforms, training and outsourcing. Companies exhibiting vehicles and vehicle equipment for the ambulance sector will include Baus, O+H, Terberg DTS, Cartwright, Volvo, Allied Fleet, BMW, Mercedes-Benz and Ferno.
New exhibitors include Bariquins which will be exhibiting its bariatric training mannequins for the first time in the UK, and Defib Store which manufactures outdoor defibrillator cabinets and works closely with the ambulance services. Private ambulance company Salop Medical Services will also be exhibiting for the first time.
Around the show there will be valuable opportunities to network with other blue and amber light services, which are increasingly working together in emergency situations. Over over 80 secondary responders, voluntary sector partners and NGOs will feature in The Collaboration Zone. Key associations including BASICS, the Independent Ambulance Association, Association of Air Ambulances and Ambulance Services Institute will all be represented.
Consensus Day on Crush and Suspension
The Faculty of Pre-Hospital Care will be holding a Consensus Day at The Emergency Services Show covering Crush and Suspension Injuries. Open to pre-hospital care providers of any level, the meeting will be held on Wednesday 21st September.
The NEC is next to Birmingham International station and Birmingham Airport as well as being directly accessible by motorway. Visitor entry, seminar theatres and parking at the Emergency Services Show are all free.
To register for free entry visit www.emergencyuk.com
Twitter @emergencyukshow Facebook The Emergency Services Show Linked In: The Emergency Services Show