Jarrow grandma thanks paramedic for saving her life
Jarrow grandma thanks paramedic for saving her life
Monday, 06 June, 2016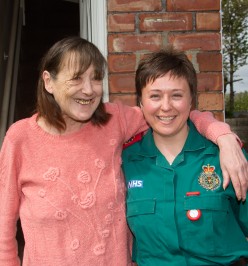 Margaret Gray with paramedic Caroline Shaw
A Jarrow grandmother of two, who stopped breathing after collapsing at home, has been reunited with the paramedic who saved her life.
At 5.55am on 9th November 2015 Margaret Gray, aged 60, of Mitford Terrace, woke up struggling to breathe. Margaret is an asthmatic and also suffers from a collection of lung diseases known as chronic obstructive pulmonary disease (COPD) but on that morning her breathing was worse than usual. After fighting for breath, Margaret suddenly passed out and stopped breathing.
In a panic Margaret's husband, Matty dialled 999 and within seven minutes, paramedic Caroline Shaw and her student Brad Brooks were on the scene, and commenced CPR.
On the Glasgow Coma Scale (GCS), which assesses the level of consciousness of a person, Margaret measured the lowest possible level of three, indicating she was deeply unconscious. Realising how poorly Margaret was, Caroline called for a second paramedic team for back-up and Paul Handley arrived two minutes later in a rapid response vehicle.
Caroline and Paul continued to take turns to give CPR and when Margaret started to breath, administered a specialist mask - known as a nebulizer - to send medication directly into Margaret's lungs. When the ambulance arrived at South Tyneside Hospital at 5.56am, Margaret had stabilised and her GCS levels had returned to a normal range.
After a couple of weeks stay in hospital, Margaret returned home to be cared for by Matty. She is now feeling much better and is managing her asthma and COPD effectively.
Margaret said: "I don't remember anything that happened that morning until I woke up in the hospital but my husband told me all about how Caroline and the rest of the team brought me back to life.
"It was really scary for Matty as he was told to leave the room. But he was full of praise for the ambulance team and how well they dealt with the situation. They basically brought me back from the dead. It made me realise what an amazing and vital job paramedics and the ambulance service do and I was really keen to meet and say thank you to Caroline in person. Being able to look Caroline in the eye and tell her I'm alive thanks to her meant a lot. I'll always be eternally grateful for her efforts on that day. Matty and I are now fundraising for ambulance services in the North East."
Caroline, aged 38, from South Shields, said: "When we arrived at Margaret's house she was in a bad way. She was unconscious and wasn't breathing. After giving her CPR and a nebuliser, she stabilised and when I handed her over to the hospital team I knew she was going to be OK. To find out Margaret wanted to meet me to say thank you in person was a lovely surprise. Working as a paramedic you see poorly patents every day but it's really gratifying when you meet someone later who has recovered and is doing well. This was a real team effort and I couldn't have done it without Brad and Paul. It makes the job really worthwhile knowing that you've made a huge difference to their life. I loved meeting Margaret and seeing how well she's doing."
COPD is one of the most respiratory diseases in the UK, causing about 25k deaths a year, but lifestyle changes such as giving up smoking can help reduce the impact of the disease and risk of contracting it.