Being a Wiltshire Air Ambulance Pilot is Top Job
Being a Wiltshire Air Ambulance Pilot is Top Job
Monday, 25 April, 2016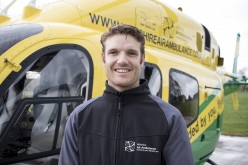 Wiltshire Air Ambulance's new pilot Rob Collingwood.
NEW Wiltshire Air Ambulance (WAA) pilot Rob Collingwood says his job is the best in the world.
Rob, 35, began as a full-time pilot with WAA earlier this month and has flown a number of missions in Wiltshire and surrounding counties responding to medical emergencies, including road traffic collisions and cardiac arrests.
This is his first HEMS (Helicopter Emergency Medical Service) role. He served in the UK Army Air Corps for ten years as a helicopter pilot and before joining WAA was a helicopter pilot in the oil industry based in Aberdeen.
Rob, who lives near Devizes, said: "I carried out casualty evacuation in the Army and what attracted me to HEMS work was flying specialist paramedics to patients and flying patients to hospital within the golden hour to give them the best chance of recovery.
"Being a HEMS pilot is the best job in the world. Trying to help people who are seriously injured or ill is so rewarding. I'm incredibly impressed by the professionalism of our paramedics, they have exceptional capability. We can't always save everyone and that is sobering, but we do the very best we can.
"I'm delighted to be part of Wiltshire Air Ambulance. All of my colleagues in the crew, the operational side and the charity team are so passionate about what Wiltshire Air Ambulance does and are committed to delivering the best service to the people of Wiltshire and surrounding counties.
"There is so much goodwill amongst the public for Wiltshire Air Ambulance. When I speak to people about Wiltshire Air Ambulance everyone seems to have an anecdote about it, they either know someone who has been helped by it or they've fundraised for it."
WAA is the first air ambulance in the UK to use a Bell 429 helicopter and Rob said he is impressed with it.
Rob, who is originally from Durban, South Africa, and has a partner and 16-month-old son, said: "It's a lovely modern cab and it is spacious in the back for the paramedics to work in with patients. It's a very smooth and fast aircraft and the power is incredibly impressive. It's pitched perfectly for HEMS work."
Rob is employed by Heli Charter, who WAA leases the Bell 429 helicopter from.