New CFRs
New CFRs
Wednesday, 06 April, 2016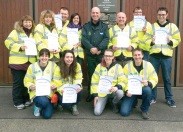 North West Ambulance Service NHS Trust (NWAS) has welcomed brand new recruits to its Community First Responder (CFR) teams in Cumbria that will assist in providing lifesaving help to local residents.
All the new CFRs undertook the required first aid training course which was taught over two weekends in Keswick by Tony Lavelle, a NWAS Paramedic from East Lancashire, and everyone passed with flying colours. They are now equipped with defibrillators, oxygen and medical supplies, all ready to be called out to emergencies within Silloth, Thursby, Ulverston, Dalton, Lorton,Ambleside, Carlisle, Wigton, Morland and Gosforth.
NWAS has one of the largest and longest established Community First Responder schemes in the country, with over 1200 active CFRs shared between 134 teams throughout the region.