Collaboration and Training for Paramedics at The Emergency Services Show 2015
Collaboration and Training for Paramedics at The Emergency Services Show 2015
Friday, 19 June, 2015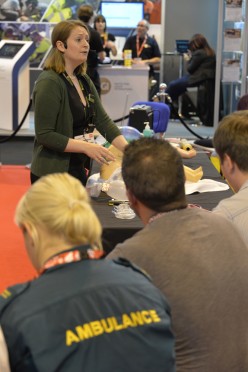 Collaboration and training will top the agenda at The Emergency Services Show when it returns to the NEC in Birmingham on 23 and 24 September this year. Paramedics are expected to be one largest groups of visitors again this year, joining colleagues from across the emergency services and voluntary organisations.

Now in its tenth year the growing Emergency Services Show is free to attend for all staff levels within the Ambulance Service and private ambulance operators. This year's event will include a series of free seminars covering innovation and collaboration/interoperability (organised with the Joint Emergency Services Interoperability Programme and the Emergency Services Collaboration Group).

The event has already attracted many of the most respected training providers in the industry including the Tactical Training Centre, NHS Ambulance Service First Aid Training consortia (NASFAT), University of St Andrews, Coventry University and London Metropolitan University.

The College of Paramedics will again be running a series of free Continual Professional Development (CPD) sessions with full details of the programme of lectures and workshops available soon.

There will also be further seminars, simulations and opportunities to see the latest life saving techniques and equipment in action from more than 400 exhibitors including: Laerdal Medical, Simulaids, Tytel Medical, SP Services, Paraid, Hospital Aids, Ambu and Viamed.
The National Inter-Agency Liaison Officers (NILO), a group which began within the Fire & Rescue Services, but which has now been extended to all responding agencies has also confirmed it will be exhibiting in the popular Emergency Response Zone (ERZ). The ERZ features over 80 support responders, voluntary sector partners and NGOs, and is designed to promote multi-agency working. NILO's aim is to provide a corps of officers especially trained to ensure co-operation between agencies responding to a terrorist related or public order event. Its qualification has now been adopted as a standard by Ambulance Trusts to provide a fully multi-functional adviser to Gold & Silver Commanders.

The NEC is physically linked to Birmingham International Airport and Birmingham International Station and has direct Access to UK motorway network. Visitor entry and parking at the Emergency Services Show is free.
To register visit www.emergencyuk.com