St George's Hospital helipad co funded with the HELP Appeal receives close to 200 patients in its first year
St George's Hospital helipad co funded with the HELP Appeal receives close to 200 patients in its first year
Friday, 29 May, 2015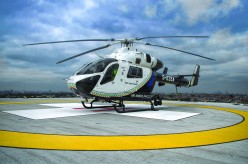 St George's University Hospitals NHS Foundation Trust and County Air Ambulance HELP Appeal today marked the first anniversary of its helipad.
192 patients have been air lifted directly to St George's since the helipad was officially opened by Mayor of London, Boris Johnson last year.
The majority of the patients brought to St George's via air ambulance have been involved in road traffic accidents, but there have been other serious injuries that have seen patients arrive on our helipad; a child who suffered severe head trauma after being hit by a falling telegraph pole and a motorcyclist who severed her right leg below the knee after veering towards an electricity pole are just two examples.
Having a helipad at St George's can dramatically reduce the amount of time critically ill patients have to travel before receiving the expert care they so desperately need. It saves lives.
The St George's helipad received its first stroke patient transfer in March this year. The patient was not responding to treatment at another hospital and it was decided that he needed an urgent thrombectomy (removal of a blood clot from a vessel). By air lifting him to St George's his transfer time was reduced from 1h27m to 30 minutes. This speed will have undoubtedly contributed to his successful discharge.
The County Air Ambulance HELP Appeal is a charity which aims to deliver helicopter landing pads at all Major Trauma Centres and key A&E hospitals across England and Scotland. Its Chief Executive Robert Bertram said:
"The HELP Appeal's £1million donation to the helipad's construction has made such a difference to a huge number of critically ill patients living south of the river Thames and further afield.
"Time between incident and treatment in some injuries is critical. Minutes stuck in London traffic can worsen conditions and in some cases, cost lives. Every minute counts. With a fully functioning Helipad, patients now land directly on the hospital roof and are brought immediately to the Emergency Department for the expert care they urgently need."
Leila Razavi, assistant general manager for St George's major trauma centre said:
"St George's helipad opened exactly a year ago today, becoming the second medical helipad in London. The addition of the helipad has enabled St George's to extend its reach, helping to treat severely injured patients from South West London, Surrey and beyond.
"In its first year the St George's helipad has received 192 patients. This included the first-ever stroke patient transfer where the air ambulance journey took just 30 minutes to cover the 60 miles from Ashford to the rooftop helipad at St Georges, a journey that would have taken well over an hour by road.
"There is little doubt that the ability to fly a critically injured patient directly to a major trauma centre has made a difference to patient outcomes. The avoidance of a lengthy road transfer reduces the time it takes to get these patients to the expert care they so desperately need."
Leigh Curtis, Director of Operations for the Kent, Surrey & Sussex Air Ambulance said:
"We landed on the helipad the very first day it opened and since that time the ability to deliver our patients fast and direct to the world class services offered by St Georges has had a significant impact on reducing the time from injury to definitive treatment for our patients."