New Paediatric Resuscitation and Treatment Board Highly Commended in Innovation Voucher Competition
New Paediatric Resuscitation and Treatment Board Highly Commended in Innovation Voucher Competition
Wednesday, 22 April, 2015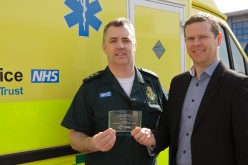 Left to right: Chris Allen, Duty Locality Officer, East of England Ambulance Service receives his Highly Commended Innovation Voucher plaque from Chris Armstrong, Marketing Manager, Health Enterprise East
A Duty Locality Officer at East of England Ambulance Service NHS Trust is celebrating being 'highly commended' in an Innovation Competition and winning funding worth £500 to help progress his idea for a Paediatric Resuscitation and Treatment Board.
The Innovation Voucher competition was organised by Health Enterprise East, a leading NHS Innovation Hub based in Cambridgeshire.
The Paediatric Resuscitation and Treatment Board, devised by Chris Allen who is based in Southend, is for use when treating a very sick child in the pre-hospital environment.
The Board brings all the required treatment items together in one place and acts as a treatment platform, as well as carrying guidance information as an aide memoire.
Chris said: "There is currently no standard layout for paediatric equipment in ambulances or emergency response cars and so this could help to fill that gap.
"My Board has the potential to be placed in every ambulance and emergency response car in the country and could be adopted worldwide. It could also be used in day care centres, nurseries and schools.
"In addition to helping improve care for the child, there is also the potential to reduce stress for the ambulance practitioner in these situations. I plan to use the prize money towards getting a working prototype made to take the project forward."
Commenting on the winning idea, Chris Armstrong, Marketing Manager at Health Enterprise East said: "We were very impressed with this idea and could see the potential to improve patient care in ambulance and other settings. This was our third Innovation Voucher Competition and we were delighted to receive a high number of quality entries from our Member Trusts for Medical Technology which included ideas for medical devices, clinical equipment, diagnostic assays or kits and software applications.
"The Voucher money can be used to help progress the inventors' idea in a number of ways such as: feasibility research on a new product, new product design and development and filing Intellectual Property such as patents and design rights."
The East of England Ambulance Service currently runs 323 Ambulances and over 200 Rapid Response Vehicles.