Cardiac arrest survivor reunited with life-savers
Cardiac arrest survivor reunited with life-savers
Monday, 20 April, 2015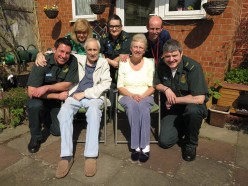 Back row (l-r) Sandra Newman, Allison Cheesman, Neil Magee, Front row (l-r): Richard Holt, Richard Knapp, Sue Knapp, Stephen Dennehy
Cardiac arrest survivor Richard Knapp was this week re-united with the heroes who saved his life.
Richard, from Chingford, collapsed in February while at a gathering with friends in Epping.
On Monday (20th April) the 64-year-old, who battled for his life in intensive care for more than a week, was visited by staff from the East of England Ambulance Service NHS Trust (EEAST) and Basildon and Thurrock University Hospital.

​"I'm ever so grateful," said Richard, a retired carpenter and joiner. "I can't put it into words. I'll always be grateful to those who helped me on that day and the staff in the hospital. I love them all and I'll never forget them. They all fought to give me back a life."
Richard's wife Sue, 60, added: "It has been a bit of a rollercoaster quite honestly. Every time I thought we were turning a corner he went downhill again but what a result in the end! He has received amazing care all the way. I can't fault it. We are so grateful."
The 999 call was made around 6.15pm on 3rd February after Richard was struggling to breathe. Epping community first responder (CFR) Sandra Newman was first on scene and was soon joined by Loughton emergency care practitioner (ECP) Richard Holt in a response car as well as a Harlow ambulance crew of Stephen Dennehy and Allison Cheesman.
Richard Holt, who lives in Chingford, said Richard deteriorated quickly: "He was pale and clammy and we did some tests. We could see he was having a massive heart attack then his heart just stopped. Sandra started CPR and we had to give him three shocks with the defibrillator."
He added: "It's fantastic to see him out in his garden today. I spoke to his wife Sue three or four times on the phone and there were points when she didn't think he was going to make it. The next time I rang Richard answered the phone!"
Allison, an emergency care assistant (ECA) from Braintree, said: "To see someone pull through like this is absolutely amazing. It really is a phenomenon."
A Herts Air Ambulance paramedic and doctor were also dispatched to the scene in a rapid response car. Richard was stabilised before being taken to the cardiothoracic centre at Basildon and Thurrock University Hospital. It was touch and go in hospital, where Richard suffered with multiple organ failure and pneumonia during the early stages of his recovery.
Critical care nurse Neil Magee, who is part of the hospital's outreach team, said: "He gave us all a few scares along the way. There were several occasions when I feared that he wouldn't make it to the end of my shift. It's a pleasure and a real honour to come and see him. We're all so pleased to see what a recovery he has made."
Richard, who built up a special bond with many of the doctors and nurses on the hospital's Roding cardiology ward, added: "There were times when I felt like giving up, but everyone battled for me. They became my family for the seven weeks I was there. I was amazed at how many people wanted to come and see me too. It's overwhelming. I realise how lucky I am to have such friends. You don't know what is round the corner for you and it makes you realise how fragile life is."