A busy Easter for Devon's Air Ambulances
A busy Easter for Devon's Air Ambulances
Wednesday, 08 April, 2015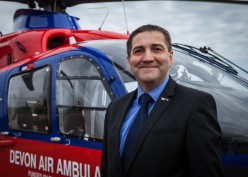 The good weather and Easter break made it a busy long weekend for Devon's Air Ambulance crews. Although Good Friday saw an unusual day with no missions, the rest of the weekend made up for it.
Nigel Hare, Operations Director explained "From Easter Saturday to Easter Monday our crews were extremely busy, having been deployed to 14 incidents across the county. From these missions we carried 9 patients and treated one person on scene. We also helped out our colleagues in Cornwall who were out on a mission already and attended a patient in Port Isaac."
He added "The busiest area of Devon over the weekend was definitely the South Hams! On Monday alone we attended 3 incidents in Salcombe and one in East Portlemouth which varied between medical emergencies, recreational accidents and road traffic collisions. It isn't unusual visiting this area due to its rural nature as it can often take over an hour to convey a patient by road to Derriford Hospital in Plymouth."
Devon Air Ambulance extend their operational hours during the lighter months and we are currently able to provide cover between 7am and 8pm. With us moving to a 9pm finish later this month we will be providing 14 hours of cover each day which is achieved by splitting the helicopter operating shifts between our two airbases, with one starting early and one finishing later.
Nigel added "Although 14 hours a day is fantastic, we are delighted through the ongoing support of the people of Devon that later this month we will be extending the number of hours each day our Exeter aircraft is on duty from 10 hours to 12 hours throughout the summer months. On top of this next year we will be extending even further the operating hours of our service right through to midnight all year round, meaning we will no longer be restricted to operating only during the hours of daylight. This will help ensure Devon gets the best possible Air Ambulance service and that we are here for anyone who should need us for longer."