Inspirational woman achieves driving ambition to crew frontline ambulance
Inspirational woman achieves driving ambition to crew frontline ambulance
Wednesday, 11 March, 2015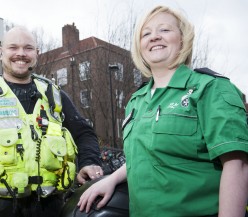 Denise Gilligan with Richard Webb-Stevens
An inspirational woman with a severe hearing impairment is on the road to achieving her dream of becoming a paramedic after completing successfully completing St John Ambulance's most advanced first aid course.
Denise Gilligan, 36, from Perivale in Ealing, parked her long held ambition many years ago assuming her hearing problems disqualified her from frontline ambulance work.
But then she heard about a deaf London Ambulance Service (LAS) motorbike paramedic, Richard Webb-Stevens, whose determination to succeed in his chosen career despite his disability encouraged her to do the same.
Denise, who has suffered serious hearing impairment since contracting measles at the age of six, sent Richard a Facebook message and asked to meet him.
She explains: 'He told me about his job, the challenges and how much he loves it and that his hearing impairment doesn't prevent him in any way from excelling at his role. In fact, being able to lip read has come in handy on a few occasions.
'He was born deaf and his hearing is far worse than mine. When he told me his story, it gave me the reassurance and motivation I needed to apply for the St John Ambulance Emergency Transport Attendant (ETA) course.'
Denise was accepted on the four-week course at the beginning of January and passed with flying colours. She now has all the advanced first aid skills needed to undertake her new role as part of the London St John Ambulance team which provides a patient transport service for various NHS trusts and private healthcare providers. The role includes providing an emergency response service in support of the LAS.
Denise has never been afraid of a challenge. She originates from Galway and has played at the highest level of the Irish sport Camogie (a female version of hurling). She even made it into the Guinness Book of World Records for playing Camogie non-stop for 24 hours – the longest game ever recorded. In October she hopes to run her first marathon in Dublin.
When Richard Webb-Stevens told her recently that he'd been selected to be the first deaf paramedic to join London's Helicopter Emergency Medical Service, she replied: 'I'm going to be the second.'
Denise used her first aid skills, learned as part of a diploma in sport therapy, in a major medical emergency two years ago while travelling by bus on the motorway between Birmingham and London. She was with her fellow Camogie team members after playing a match in Dublin.
She recalls: 'One of the girls had been standing at the top of the steps at the back of the bus where the toilet is and she slipped and fell down the steps and out the emergency exit door. 'I tended to the injured girl along with two nurses and an occupational therapist who were on the bus with me. We did observations in the middle of the motorway while we waited for the ambulance. We secured her head and kept her warm. She suffered a brain injury but recovered fully. She was one lucky lady who fell backwards out of a bus on a motorway and lived to tell the tale!'
Denise hopes her success will inspire others with disabilities to pursue their goals in the same way that she was inspired by Richard's story.
Richard says: 'I'm thrilled for Denise as she takes the first steps into her chosen career. She is clearly passionate about taking on a job helping people. I've never let my disability get in the way of my dreams and I'm truly flattered that I've been able to inspire Denise to achieve hers.'