Midlands Air Ambulance Charity Ball Raises £80,000
Midlands Air Ambulance Charity Ball Raises £80,000
Monday, 23 June, 2014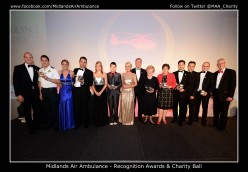 Midlands Air Ambulance Charity would like to thank the 500 guests who attended the charity's recent Recognition Awards and Charity Ball, as they helped to raise £80,000 for the vitally important life saving service.
The star-studded black tie evening, which was sponsored by TH Baker and took place on Friday 20th June at Edgbaston Stadium, was the charity's most successful fundraising event to date. The night was attended by the charity's celebrity ambassadors, supporters of the charity and a number of the service's corporate partners.
Among the famous faces who attended were rugby star Mike Tindall MBE, Paralympic and Olympic stars, Lee Pearson MBE OBE CBE, Zac Purchase MBE, Jane Sixsmith MBE, David Stone MBE, and Ryan Cockbill, plus Phil Upton who kindly compered the event.
The glittering evening started with a drinks reception and the arrival of two of the charity's red helicopters, which landed on Edgbaston Stadium's famous pitch. Guests were then treated to a four course dinner, followed by live entertainment, casino, live auction and prestigious raffle.
The £80,000 raised on the evening will go directly towards funding over 30
Midland Air Ambulance missions across the region.
Hanna Sebright, chief executive for Midlands Air Ambulance Charity, says: "Our Recognition Awards and Charity Ball is always a much anticipated event in our fundraising calendar. Not only does the evening help to raise vitally important funding for the Midlands Air Ambulance, it is also a chance for us to thank and celebrate the activities of a number of people and organisations who have demonstrated unfaltering support of the charity."
During the evening, the Recognition Awards highlighted some of the great work of supporters, staff and patients in raising awareness and funds for the region's much loved charity.
The 2014 winners* were:
Volunteer of the Year – Bill & Linda Snaith from Rugeley
Sky Champ – 12 year old Joshua Dudley from Cradley
Fundraiser of the Year – Thelma Price from Bridgnorth
Extreme Fundraiser of the Year – 3PeaksForLisa – family and friends from Uttoxeter
Business Partnership of the Year – Wilkinsons stores
Medic of the Year – paramedic Colin Apps from Worcester
Bravery Award – Oliver Fernihough from Herefordshire
Special Recognition Award – Members of Midlands Air Ambulance's aircrew (recently named Air Ambulance Team of the Year at the Ambulance Service Institute Awards) – Ian Walley, Katherine Ellis, Fay Pollock, Dr David Balthazar and pilots James Benson and Graham Cannell.