West Sussex man meets up with life-saving crew
West Sussex man meets up with life-saving crew
Thursday, 13 March, 2014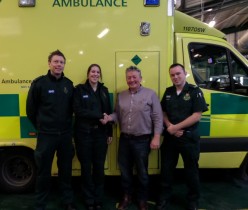 A West Sussex man's quest to thank all the emergency service teams who helped save his life was realised when he was recently reunited with an ambulance crew from South East Coast Ambulance Service NHS Foundation Trust (SECAmb).
Construction worker, David Johnstone, 53, from Warnham, was working on his friend's farm near West Chiltington, when he fell off a hay trailer down onto a lever at the back of a tractor and suffered a life-threatening chest injury in July last year. David's co-workers on the farm immediately called 999 when they realised the seriousness of their friend's condition.
David recalled: "I got myself up and then just slumped over a bale of hay. I was in terrible pain and my breathing became shorter and more agonising each time I tried to get some air and I thought that this was it. When I heard someone say they could hear the ambulance sirens it felt to me I had been in pain for ever."
The ambulance team made up of Critical Care Paramedic (CCP) Lewis Allam, Student Paramedic Laura Benham and Ambulance Technician Christian Clarke quickly established that David's condition was critical as he had sustained a penetrating chest injury, narrowly missing his vital organs.
Lewis said: "By the time I reached Dave he was struggling to breathe. Initial pain relief and oxygen was being administered by Christian and Laura but the injury was so severe that the Kent, Surrey and Sussex Air Ambulance were called in. I could see Dave deteriorating in front of me due to his lung collapsing as he tried to breathe and it was a relief for us all to hear the helicopter overhead."
The Air Ambulance doctor and crew sedated Dave and inserted a chest drain to try to control Dave's breathing, a procedure that is normally only carried out in hospital. Dave was subsequently airlifted to the Royal Sussex County Hospital Major Trauma Unit for further life-saving treatment.
Technician Christian recalled: "It was a sunny day and the perfect weather conditions allowed the air ambulance to come out and set down in the field right near the accident. Time and place was perfect if not Dave's horrific injury. Any minute's delay on that day could have meant Dave's survival was going to be less likely."
Last October Dave visited the air ambulance crew to thank them in person and since then he was determined to meet up again with the SECAmb crew to do the same: "I particularly remember Laura as I seem to recall that she was at my head and telling me repeatedly how well I was doing, although it didn't feel like it! To all, I extend my heartfelt thanks for their amazing skills and for helping to save my life. I have changed my focus on life and I feel so lucky that all that remains is an unattractive scar."
The crew were delighted to receive a visit from their former patient as Laura explained: "It makes such a difference for us being able to meet a patient who has made a full recovery and is so grateful for our care. We were all challenged by the severity of Dave's injuries, something we do not deal with on a daily basis, and it was lovely to see him looking so well."