PROACT Medical Ltd Launch new 2014 Medical & EMS Catalogue
PROACT Medical Ltd Launch new 2014 Medical & EMS Catalogue
Wednesday, 26 February, 2014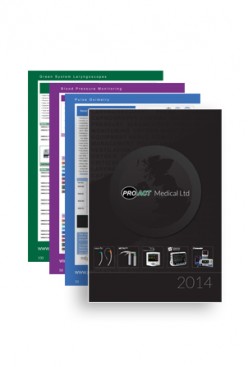 PROACT are pleased to announce that our new 2014 UK Medical & EMS Catalogue is now available, with the focus on high quality products at value for money prices.
With easy to use colour coded sections, it introduces many new products which have been incorporated into our already extensive range and incorporates as many price reductions as possible.
New products for this year include:
Metal Max® Green System 90 Range - New low profile design offers easier access, better view and maximum strength. The Metal Max® GS90 range offer a low cost plastic block with the strength of metal through the critical hook on area.
Nasoflo Nasopharyngeal Airway Device – An innovative device that delivers direct O2 with precision CO2 detection. Connecting directly to the oxygen tube via the oxygen port the device reduces the need for the use of a mask.
New Multi Parameter and Telehealth section – Featuring Creative Medical Monitors. The range of Patient monitors includes options for Telehealth, Homecare, Veterinary through to Hospital monitors for wards, transport and critical care, and complement the full range of Nonin oximetry already featured.
With a huge selection of PROACT products available through NHS Supply Chain, the PROACT 2014 Catalogue also features a user friendly NHS Supply Chain NPC Code index to make ordering easy.
For a free of charge hard copy, please contact a member of our customer service team on 01536 461981 or a digital copy is available to download for free at www.proactmedical.co.uk