Make Ready Thanet to become a central reporting centre
Make Ready Thanet to become a central reporting centre
Wednesday, 26 February, 2014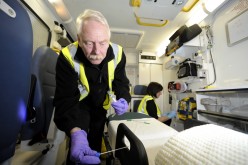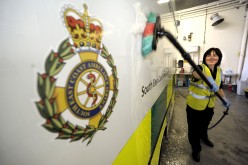 South East Coast Ambulance Service NHS Foundation Trust (SECAmb) is to convert Thanet Make Ready Centre into a central reporting centre for the local area.
The Make Ready system offers significant benefits for patients. Specialist teams of staff are employed to clean, restock and maintain vehicles which means staff, who had routinely undertaken these tasks, can spend more time treating patients.
Work is already under way at the centre, in Haine Road, to allow staff from Canterbury, Deal and Herne Bay to relocate to Thanet where ambulances will be prepared for crew before every shift.
Senior operations manager for the area, Chris Stamp, said: "We want our staff spending more time doing the job they are trained to do – treating patients. You would not expect to see the pilot of an aircraft cleaning the plane before every flight and that is what we are looking to achieve with the Make Ready system."
Under the Make Ready system vehicles are regularly deep-cleaned and swabbed for the presence of micro-organisms including MRSA and CDiff. Each vehicle is fully stocked to a standardised specification with equipment checked and serviced regularly. To reduce the risk of vehicle breakdowns, on-site vehicle maintenance experts are on-hand to undertake routine checks and maintenance.
As part of the changes taking place at Thanet, where staff will begin and end their shifts, staff will respond to emergencies from a network of strategically-placed ambulance community response posts.
The plan is to have nine response posts in the area, Deal, Herne Bay, Birchington, Margate, Broadstairs, West and East Canterbury, Faversham and Whitstable.
The posts will provide facilities for staff between emergencies and will be located in areas to ensure we reach as many patients as quickly as possible.
Chris said: "These posts will be located based on patient demand. Many of our ambulance stations were built more than 30 years ago and not in the best position for responding to patients quickly.
"Improving patient outcomes and response times to patients requires our vehicles and crews to be where the public need them to be, when they need them; this is why you might see an ambulance on 'standby' in locations that are not ambulance stations because they are closer to patient demand."
Decisions regarding the disposal or closure of ambulance stations will be made on an individual basis and on whether they are in the best locations to respond to patients. However, the closures or disposal of ambulance stations will only take place once a response post is operational – thus protecting and enhancing the service we provide to patients.
Chris said: "The Trust has made a strong commitment to Make Ready which is vitally important to us providing an efficient and responsive service to patients."
The Trust already has two central reporting Make Ready Centres in Kent in Ashford and Paddock Wood.