Yorkshire Ambulance Service Wins National Award
Yorkshire Ambulance Service Wins National Award
Wednesday, 19 February, 2014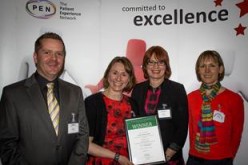 The YAS team collect their PENN Award. (From left to right): Rob Wilkinson, Karen Warner, Anne-Marie Haigh and Hester Rowell
Trust Recognised in Patient Experience Network National Awards for its Patient Survey Programme
Yorkshire Ambulance Service NHS Trust (YAS) has been recognised for its Patient Experience Programme, beating tough competition from across the country in the prestigious Patient Experience Network National (PENN) Awards.
The PENN Awards are the first of their kind in the UK and celebrate the delivery of outstanding patient experience by those involved in the healthcare industry.
The Awards took place on earlier this month at the Birmingham Midlands Institute and ran alongside a conference where entrants and attendees could swap ideas and discuss best practice. Guest speakers included NHS England's Chief Nurse, Jane Cummings.
The Trust took the award in the Measuring, Reporting and Acting category for its Patient Survey Programme. The judges praised YAS for the thoroughness of its approach, the commitment from Board to frontline, and the actions taken as a result of patient feedback.
The YAS Survey Programme was re-designed and re-launched in 2012 and covers the experiences of patients using all the Trust's services, including accident and emergency, the Patient Transport Service (PTS) and the NHS 111 urgent care helpline.
YAS beat off stiff competition from runner-up, University College London Hospital NHS Foundation Trust as well as other healthcare organisations from across the country, and shared its category with the commended work of South West Yorkshire Partnership NHS Foundation Trust.
Hester Rowell, Head of Engagement at the Trust said: "We are delighted to have been recognised at the PENN Awards for our on-going work on improving the experiences of our patients.
"We encourage feedback so we can understand how it feels to be a patient using our service. By listening to people's views and experiences we can identify what we do well and where we need to improve.
"The most important part of our Programme is the insight it gives us and the positive action that we take as a result."