Back to basics
Back to basics
Monday, 10 February, 2014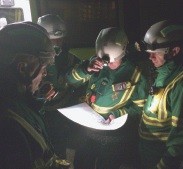 Map and compass training exercise
Specialist ambulance crews abandoned modern gadgets in a challenge that saw them take a map and compass through woods during a night time exercise.
The training was carried out by the hazardous area response team (HART) from the East of England Ambulance Service NHS Trust (EEAST) on Wednesday January 22 in Hertfordshire.
The team gathered at Tolmers Scout Camp in Cuffley and were tasked with finding three teenagers who had been out camping when one of them suffered serious burns from an exploding camping stove. Using grid references from their patient's mobile phone, they could pinpoint a location using ordnance maps and plan a route to move as quickly and safely as possible, using an allterrain Polaris vehicle, covering an area of around five kilometres.
Gary Perkiss, HART Team Leader, said the exercise went really well: "Due to the darkness and bad weather, the ground conditions were extremely difficult so the team were really tested, and they were out there for around two-and-a-half hours.
"We try to make these exercises as realistic as possible because if this was a real-life scenario we could use GPS mapping units but can't always rely on a signal so these skills can be extremely useful."
The ambulance service has two HART bases covering the whole of the East of England, in Melbourn and Great Notley.