Lucky Wayne thanks team of lifesavers after cardiac arrest
Lucky Wayne thanks team of lifesavers after cardiac arrest
Friday, 07 February, 2014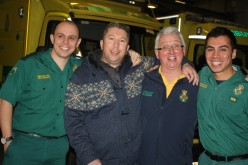 Paramedic Steve Magee, Wayne Jones, Community First Responder Bryan Foley and Emergency Medical Technician Adrian Pagano. CREDIT: Barry and District News.
A FATHER-of-six who went into cardiac arrest after he awoke feeling unwell has paid tribute to the ambulance crew and volunteer that saved his life.
Wayne Jones, 45, had made himself a coffee before he collapsed in the living room at his home on Gilbert Street in Barry.
His son dialled 999 and began to administer cardiopulmonary resuscitation (CPR) with support from the Welsh Ambulance Service call handler.
Minutes later, Community First Responder Bryan Foley had made his way to the property and delivered two shocks to Wayne using a defibrillator.
Paramedic Steve Magee and Emergency Medical Technician Adrian Pagano arrived in an ambulance and delivered a third shock, which produced a heartbeat.
Wayne spent four weeks at the University Hospital of Wales in Cardiff, before he was healthy enough to return home.
This week he was reunited with the team of lifesavers for the first time since his brush with death.
Wayne said: "I owe the crew a big thank you for everything they did. I would not be here today without them."
A cardiac arrest happens when the heart suddenly stops pumping blood around the body.
There are approximately 8,000 sudden cardiac arrests annually in Wales, and the person may suffer permanent damage to the brain and other organs unless someone starts CPR immediately.
It can also sometimes be corrected by giving an electric shock through the chest wall, using a defibrillator.
It was in April last year that Wayne fell seriously ill.
His wife Michelle said: "He had woken feeling really unwell, and had gone downstairs to make himself a coffee. The next minute I was being called by our son because he was unconscious.
"We're just so grateful for everything that Bryan and the crew did, they were amazing."
Bryan, who by coincidence is the leader of the 11th Barry Sea Scout Group, of which Wayne's daughter was a member, also recalled what happened.
He said: "I didn't need an alarm that morning because I got a call from control to say there was a cardiac arrest in Barry.
"As soon as I saw the house, I realised who it was because I go back many years with the family. I delivered two shocks to Wayne and did two cycles of CPR, but he wasn't responding.
"It was at that stage that Steve and Adrian arrived and took over."
Paramedic Steve, who has worked for the Trust for seven years, added: "Bryan did an excellent job, which meant we were in a really strong position when we arrived at the scene."
Community first responders, like Bryan, are volunteers who give up their spare time to attend appropriate 999 calls and give first hand emergency care to people in their own community.
Volunteers are trained by the Welsh Ambulance Service to administer basic first aid, oxygen therapy, CPR and the use of a defibrillator.
First responders do not replace the normal response of a paramedic in a rapid response vehicle or an emergency ambulance, but support the patient until they arrive.
Bryan said: "It's good to be part of a team that you can actually see making a difference. Having first responders in the community means giving someone a fighting chance of survival.
"It's good to see that Wayne is putting his best foot forward."
Elwyn Price-Morris, Chief Executive of the Welsh Ambulance Service, added: "Community First Responders play an important role alongside frontline ambulance staff in making sure patients get appropriate help quickly and efficiently.
"Community First Responders are a key partner in the chain of survival and very much part of the whole Welsh Ambulance Service family."
First responders in Barry are preparing to mark the tenth anniversary of their inception in June, and are recruiting more members to celebrate.
Visit www.barry-responders.org.uk for more information on signing up, or the 'Community First Responders' section of the Welsh Ambulance Service website for more information on the role.
Wayne has made a slow but steady recovery from his cardiac arrest, and enjoys gardening and spending time with his sixteen grandchildren to build up his strength.