Thank you
Thank you
Wednesday, 15 January, 2014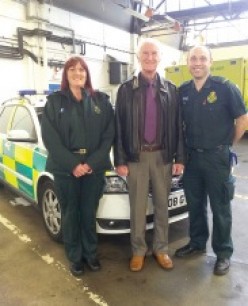 Keith with SECAmb paramedics Karen and Tim
A Westfield man has thanked the South East Coast Ambulance paramedics who came to his aid when he suffered what turned out to be a life-threatening bleed on the brain.
Keith Taylor, 78, from Westfield, near Hastings, East Sussex, has now recovered after paramedic Tim Hodgson responded to Keith's wife Marie's call on the afternoon of 2 September 2013.
Keith had been suffering from a headache for a few weeks and had visited his GP but it had been attributed to ongoing sinusitis. When Keith's condition worsened however, with him vomiting and loosing awareness, Marie dialled 999 and Tim arrived in a single response vehicle.
Seeing the possible seriousness of Keith's condition, Tim decided to take Keith on the relatively short journey to Conquest Hospital in his car immediately. At the Conquest Keith was assessed and given a scan, which revealed the bleed and build-up of pressure. Later that evening an emergency transfer was arranged and Keith was taken for specialist treatment by Tim's colleagues, paramedics Karen Demeza and Jon Middleton to Hurstwood Park Neurological Centre in Haywards Heath.
There, Keith underwent a successful operation to relieve the pressure on his brain and was discharged home after nine days. Keith remembers very little about what happened but said: "I'm so pleased I've been able to come and say thank you for everything Tim, Karen and Jon did. I'm so appreciative.
Tim was also so good with Marie, keeping her informed and reassuring her. She would have loved to come to say thank you too but unfortunately she suffered a fall this week and is recovering at home."
Keith, a retired squadron leader in the RAF and former teacher and care home manager visited Hastings Ambulance Station last month. Tim added: "I've been to people suffering from bleeds a number of times so I was soon aware that something serious could be happening. I'm just so pleased to see that Keith has recovered so well and it's nice to meet a patient we've helped again. I wish him and all his family all the best for the future."