Mountain casualties receive improved response as new technology enhances joint working for ambulance and mountain rescue services
Mountain casualties receive improved response as new technology enhances joint working for ambulance and mountain rescue services
Thursday, 21 November, 2013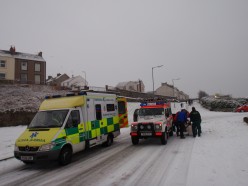 Web-based communication system SARCALL has improved the mobilisation process for Mountain Rescue Teams (MRT) in the Lake District. This has enabled NWAS to instigate 141 incidents to mountain rescue teams in Cumbria - which were previously handled by the police - since it was introduced in November 2012.
SARCALL was developed by North Wales MRT and adopted by police services across Greater Manchester and Cumbria. It enables dispatchers in the Ambulance Service Emergency Operations Centre (EOC) for Cumbria and Lancashire to directly page mountain rescue teams across Cumbria when they receive 999 calls which require their rescue support.
Updates on ongoing incidents from the mountain rescue teams can be logged and viewed on the SARCALL system. The police and mountain rescue teams can read the SARCALL log which receives information from the Emergency Operations Centre.
Peter Ballan, NWAS Sector Manager for Cumbria and Lancashire Emergency Operations Centre, said: "SARCALL enables more accurate information to be passed more quickly to the right team. Communication is improved as logs are updated during ongoing incidents. The police can also view information about incidents – which improves links between services. "When a caller mentions an injury on a mountain or remote location they can sometimes be directed to the Ambulance Service rather than Cumbria Police and Mountain Rescue, but the MRT – with its local knowledge of the terrain - might be more appropriate. Clearly the MRT has local expertise which can be invaluable to all agencies responding to calls so that we can give the best care for casualties. SARCALL enables the controller to page the mountain rescue teams and so reduce any delays in reaching the site of the incident."
The implementation of the SARCALL system has been supported by enhanced relationships between agencies. NWAS and the Lake District Search and Mountain Rescue Association (LDSAMRA) have held Operational Management Team meetings at the Kendal Mountain Rescue Team base and shown NWAS around the base.
Richard Warren, Chairman of LDSAMRA said: "In addition to visiting the Kendal Base, Control room staff got a much better idea of the role and capabilities of the MRT when they attended an exercise in September with the Wasdale Mountain Rescue Team. They heard a live call to the EOC, and activation of the MRT via SARCALL log reviews which helped improve understanding of how the system works in practice."
Peter said: "Special thanks should be given to all those who have worked hard to build favourable relationships between NWAS and LDSAMRA."