First CFR conference
First CFR conference
Friday, 11 October, 2013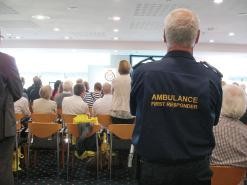 The East of England Ambulance Service NHS Trust (EEAST) celebrated the work of community first responders (CFRs) during their first ever conference, last month.
More than 250 CFRs attended the event in Newmarket, which aimed to inform, educate and celebrate the great work that the volunteers do within their communities. In 2012/13 CFRs volunteered 500,000 hours of their time responding to 999 calls and there are now 270 groups covering the whole region.
Tabitha McElliot from Essex was saved by a CFR when she went into cardiac arrest at school and spoke about her experience - she has since become a CFR herself. Presentations were also given about safeguarding patients as well as automated external defibrillator (AED) demonstrations.
Lorna Hayes, Regional Lead for Community Partnership, said: "We are really pleased with how much our CFRs enjoyed the day and hope they found it inspirational and informative. It is really important to engage our volunteers as much as possible, as they do such a brilliant job for EEAST and give up their own time 24 hours a day, seven days a week."