Prison praises WMAS
Prison praises WMAS
Friday, 14 June, 2013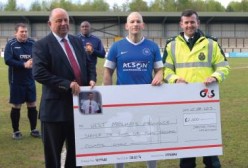 Pictured (left to right) Pete Small (Director, HMP Birmingham) and Jerry Petherick (Managing Director G4S Custodial and Detention Services) handing over a cheque for £2,000 to Brendan O'Sullivan (Paramedic Area Support Officer) who attended the inciden
Prison officers from two of the largest prisons in the country swapped the prison wing for the football pitch last month to show their support for West Midlands Ambulance Service (WMAS).
In November 2012, ambulance crews responded to HMP Birmingham after four
prison officers were attacked by a prisoner. Two had sustained serious injuries and after being given emergency treatment by ambulance staff, they were taken to Queen Elizabeth Hospital Birmingham whilst the two less seriously injured prison officers went to City Hospital for further treatment.
On 13th May Hednesford Town Football Club at Keys Park hosted a charity football match between prison officers from the G4Smanaged prisons, HMP Birmingham and HMP Oakwood. The match, which ended in a 3:0 win to HMP Birmingham, raised an impressive £2,000 which has been donated to WMAS to
say thank you for the care they gave to the four prison officers.– G4S Director for HMP Birmingham, Pete Small, said: "Prison officers are responsible for looking after some extremely difficult and dangerous offenders. While three of the four employees hurt are back at work, one of our colleagues is still recovering and we look forward to him re-joining us soon.
"This match is our way of showing gratitude to the superb professionalism and care that the crew of West Midlands Ambulance Service showed to our officers that day. Without their quick thinking, the outcome could have been much different for our colleagues with potentially even more serious consequences."
Nathan Hudson, WMAS's General Manager for Birmingham, said: "When ambulance crews responded to the prison in November, it was their quick thinking, pre-hospital treatment and use of the Regional Trauma Centre
at Queen Elizabeth Hospital Birmingham which ensured that the prison officers received the best possible care in their time of need.
"It is very humbling that the prison service has taken the time to raise such a generous donation, the money of which will be going towards the purchase of training equipment for our staff in Birmingham in order to further improve the care we give to patients."