You're hired!
You're hired!
Tuesday, 18 December, 2012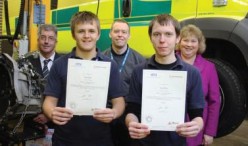 Left to right: Mechanics Ashley Wood and Sam Price, Organisational Development Officer Diane Pittom, Workshops Senior Supervisor Berwyn Jones and Walsall College Trainer Assessor Kelvin Woodhouse. Picture credit West Midlands Ambulance Service


After two years of being apprentices, two mechanics from Birmingham and the Black Country have bagged full time jobs with West Midlands Ambulance Service.

Ashley Wood and Sam Price started their motor vehicle apprenticeships with the Trust in March 2010 as part of a scheme in partnership with Walsall College.

After two years of getting to grips with the underbellies of ambulances, Ashley and Sam have now successfully achieved their intermediate and advanced apprenticeships. Their hard work and dedication has paid off as they've been given permanent full time positions as mechanics within the Trust. Ashley, 21 from Coseley, said: "I wouldn't want to work anywhere else now. I've learnt everything on the job as I only had basic mechanic skills when I started my apprenticeship. I've now worked on too many ambulance vehicles to count and have probably seen the whole fleet at least once!"

Sam, 21 from Rubery, said: "I've really enjoyed the last two years and appreciate all the help and knowledge colleagues have given me which has enabled me to complete the apprenticeship and secure full time employment." Diane Pittom, Organisational Development Officer for West Midlands Ambulance Service, said: "This is a fantastic achievement for Ashley and Sam. They were the first of many to join the Trust to go through the apprenticeship scheme, which has now seen over 100 staff complete apprenticeship qualifications with us.

"We're keen to continue partnership working with Walsall College and other local education authorities to develop youngsters into the workforce of the future." Kelvin Woodhouse, Trainer Assessor for Walsall College, presented Sam and Ashley with certificates and said: "This is a fine example of how partnership working between education and industry should be. I'm extremely proud of Sam and Ashley and we hope this success will be a platform for further
apprenticeships to give more youngsters a step on the career ladder."