MBE for Army Captain and First Responder
MBE for Army Captain and First Responder
Friday, 07 December, 2012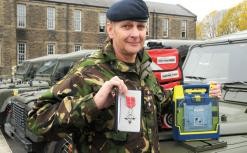 Captain Glenn Hall from Barry recently received his medal from Her Royal
Highness the Princess Royal at a ceremony in Windsor Castle in recognition of his services to the army and his role as a Welsh Ambulance Service Community First Responder.

Glenn joined the army at the age of 16 and worked his way through the ranks. Commenting on the award he said: "It was a wonderful experience to receive the MBE from The Princess Royal who is the Colonel in Chief of the Royal Logistic Corps. "I'm proud of my work and
my army career. A large part of my current duties is to inform families of the injury to, or the tragic loss of a son or daughter, mother or father whilst on active service. It's a difficult job but someone has to do it. There's many a time when I've been pushed out the door by a grieving parent or partner and I just stand there until the door opens again and I'm able to offer my support and comfort. So to be recognised for that part of my work is a great honour.
"But the MBE is also in recognition of my work as a Community First Responder in Barry."