Best job in the world
Best job in the world
Friday, 07 December, 2012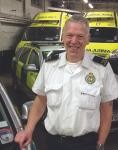 Emergency Care Practitioner Steve Kenned


An Emergency Care Practitioner with over 30 years of experience working in
Coventry & Warwickshire has left what he describes as 'the best job in the
world'.

Steve Kennedy, who started his career in Coventry and has been working in Warwick since 2005, completed his last shift on 15th November. Steve says he always wanted to work for the ambulance service but didn't get the opportunity until 1978, after five years working as a chef at Walsgrave Hospital.

Over such a long career he has obviously seen a few changes. Steve said: "For first 10 years there were no paramedic skills. Lots of us realized that we needed to be able to do more in a pre-hospital setting so it was great when the paramedic programme started." Steve passed his course in 1987, becoming only the second paramedic in Coventry.

Although primarily based in Coventry, Steve also experienced a wide range of other roles. From 1991, he spent two years flying on the Midlands Air Ambulance, which was the second air ambulance in the country. Steve said: "It was an amazing time, if a bit of an eye opener. As well as flying and saving lives we were heavily involved in the fund raising. We all ended up rattling tins, organising jumble sales and giving talks at village halls for all that, it was a great time."

He also went to Oman in the Middle East to teach first aid to the firefighters at the country's training school on a secondment. For Steve, 2005 was one of the most important in his life.
It was a chance to go to university and train as an emergency care practitioner. He said: "I could never have thought that my life would develop in such a way; the idea of me going to University and get a degree at 51 would never have crossed my mind. I completed the course at Coventry University gaining a Bachelor of Science with honours in emergency care. It was
brilliant; I was frightened to death beforehand but loved every moment of it. It taught us so much like wound care, minor illness and injury." After qualifying, Steve moved to Warwick in 2005.