Paramedic's Dearest Wish Granted by Air Ambulance
Paramedic's Dearest Wish Granted by Air Ambulance
Monday, 19 November, 2012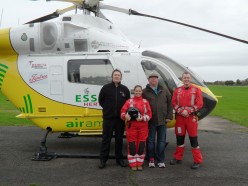 Left to right- Stuart Elms (EHAAT Clinical Manager), Tracy Paine, Adrien Paine and Dan Firmin (HEMS Paramedic)
East of England Ambulance Service Trust (EEAST) Paramedic Adrien Paine, of Colchester, who is currently bravely fighting a brain tumour, had his wish granted when his wife experienced a helicopter flight on board the Essex & Herts Air Ambulance whilst on a non-operational flight.

During a recent meeting with Hayden Newton, EEAST Chief Executive, 41 year old Adrien, a former Royal Marine Commando soon found himself explaining to Hayden about a surprise he wanted to arrange for his wife. Adrien explained: "It is my wife, Tracy's lifelong ambition to experience a helicopter flight. I wanted to surprise her for her birthday in May this year but unfortunately due to my illness this never happened. After speaking to Hayden, he made contact with Jane Gurney, CEO of Essex & Herts Air Ambulance Trust (EHAAT) and her dream soon became a reality."

Cliff Gale, Operations Director of Essex & Herts Air Ambulance Trust, adds: "This is a highly unusual request for us and normally we would decline but fortunately the helicopter was due its annual service and was already making the flight from Staverton to North Weald and therefore would not incur any cost to the Charity. So, it was decided that we could provide this once in a lifetime opportunity in support of one of our local Paramedics."

Due to the respect EHAAT has for EEAST Paramedics, Jane and her team went all out to make it possible for Tracy to be a passenger on board a replacement helicopter for Herts Air Ambulance whilst on a non-operational flight to Staverton. She then flew to North Weald airfield in the Herts Air Ambulance following its annual service.

Speaking of her experience, Tracy, said: "The experience of the helicopter flight was amazing, I hadn't realised it would exceed my expectations as much as it did. It was an absolute pleasure to meet the Pilot Craig who had me feeling right at ease. Whilst in the air Craig pointed out some of the sights and the most amazing thing was Blenheim Palace; the view of the grounds from the air was magic. I would sincerely like to thank everyone who made the experience possible and for making myself and my husband feel very welcome at the Air Base, it truly was an experience I will never forget."

Stuart Elms, Clinical Manager at Essex & Herts Air Ambulance Trust, also a former Royal Marine Commando, adds: "It was a privilege to spend a day with Adrien at the Air Base, showing him how the HEMS operation works and talking through some of our shared experiences when serving at 40 Commando Royal Marines. We work very closely with EEAST and the Charity is honoured to be in a position to fulfil Adrien's wish who has worked with some of our very own Air Crew including HEMS Paramedic Dan Firmin."