Wales Air Ambulance suited in style with ParAid Medical
Wales Air Ambulance suited in style with ParAid Medical
Monday, 29 October, 2012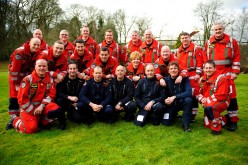 Helicopter charity, Wales Air Ambulance, a life-saving emergency treatment and transport provider, has recently revamped its flight operator uniforms with the latest paramedic suits manufactured by ParAid Medical.

ParAid Medical was chosen to supply over 40 suits which will be used by the helicopter emergency medical service (HEMS) team which handles around 2,000 emergencies each year across the service which is based in Caernarfon, Welshpool and Swansea. Emergency air service staff are required to wear uniforms that comply with aviation standards and also meet their on-the-job clinical needs.

Jason Williams, Clinical Operations Manager at Wales Air Ambulance, said:

"Our HEMS team reports to all kinds of emergency situations including those that may be found down in a coal mine or in a trash bin so it is essential that our employees are dressed in uniforms that are durable, safe and comfortable to wear to ensure they can do their job properly regardless of environmental conditions. We needed products that could withstand all the punishment they will receive on the job and we've found that ParAid Medical's products always help our employees get the job done."

Darryl Smith, Operations Director at ParAid Medical, said:

"Welsh communities rely on the valuable services that are provided by Wales Air Ambulance. We are proud that ParAid Medical is the chosen supplier for their teams' uniforms which will be used as their armour in an array of dangerous and critical medical emergency situations. Being selected to create their flight suits shows off our ability and expertise in creating high-quality, practical use products."