Once in a lifetime
Once in a lifetime
Tuesday, 14 August, 2012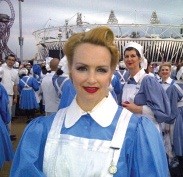 Meryn Crocker-London as a 1940s NHS nurse


London Ambulance Service Emergency medical dispatchers, Meryn Crocker-London and Robert Walsh, along with A&E support
worked Sean Fullerton, all had roles in
the Olympic opening ceremony.

Meryn, who played a 1940s NHS nurse, said
the once in a lifetime experience was 'amazing an exhilarating and magical experience' and described the atmosphere as 'electric'.

Robert, who performed as a miner in the
Industrial Revolution part of the ceremony, said the atmosphere was 'fabulous'. He said: "I was part of history and felt really proud showing the world what we have done and what we can achieve. I will be on a high for quite a while."

While A&E support worker, Sean Fullerton,
said he felt like a rock star: "Playing in front of that audience as one of a thousand drummers makes you feel like Mick Jagger. It was an amazing night - a cross between a great party and a concert."

All the performers have kept their costumes as a souvenir of the occasion. Meryn said: "It's a great memento of our time spent."