National recognition for NWAS
National recognition for NWAS
Tuesday, 14 August, 2012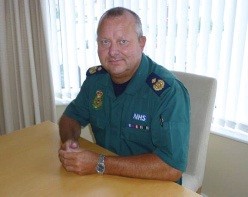 Peter Mulcahy, North West Ambulance Service's Head of Service for Cumbria and Lancashire


Peter Mulcahy, North West Ambulance Service's Head of Service for Cumbria and
Lancashire, is set to receive a Queen's Ambulance Medal.

On being awarded this honour, Peter, from Liverpool, said: "All I can say is how proud I am after over 34 year's service to receive such an award. I consider it an honour on a personal level, but also for NWAS. As well as thanking the wider NWAS team, I would also specifically thank my teams in Cumbria and Lancashire for their support."

Peter Mulcahy was first positioned as acting Head of Service for Cumbria and Lancashire in 2007 and has succeeded in bringing together the two counties, which previously existed as standalone Ambulance Trusts. The Cumbria and Lancashire area, which covers approximately 3000 miles, accounts for 71% of the Trust's footprint.

In 2008, Peter acted as Gold Commander for three separate Major Incidents, which all occurred in the Cumbrian county. The first incident occurred in November 2009, in Western Cumbria, with a major flooding in the town of Cockermouth. This resulted in mass evacuation and support systems to be put in place to look after many hundreds of members of public displaced over three to four days.

During this incident Peter took many shifts as Gold Commander, sleeping in hotels between shifts. One police officer died on the first night of the floods. The second incident occurred in May 2010 when a coach carrying school children turned over as a result of a road traffic collision, again in Western Cumbria. This incident caused the death of two of the children, with 50 others needing treatment and transportation. The third incident occurred on 2 June 2010 in and around the Western Cumbria town of Whitehaven. A gunman indiscriminately shot many people, killing 12 and injuring 45. The gunman finally turned the gun on himself.