HELP Appeal grant helps to re-open Gloucestershire Royal Hospital helipad
HELP Appeal grant helps to re-open Gloucestershire Royal Hospital helipad
Friday, 13 July, 2012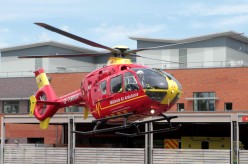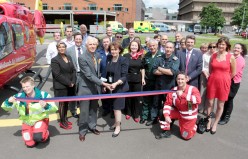 Gloucestershire Royal Hospital's helipad officially re-opened today following a ceremonial landing by the local air ambulance and a ribbon cutting ceremony in front of the hospital. The helipad, which has not been used since April last year due to the construction of a new multi-storey car park and changes in the Civil Aviation Authority (CAA) regulations, is now back in action and helping to save lives thanks to funding provided by the HELP (Helicopter Emergency Landing Pads) Appeal, and Gloucestershire Hospitals NHS Foundation Trust.

Commenting on the re-opening of the helipad, Maggie Arnold, Emergency Care Programme Director at Gloucestershire Royal Hospital, said; "We are delighted to see the helipad re-opening today. Air ambulances can be an effective way of getting faster access to hospitals and are enormously valuable in transferring patients from rural areas of the county or where road access is difficult.
Helicopter transport enables the ill or injured to reach expert care in A&E sooner, giving them the best possible chance of surviving. We are grateful to the County Air Ambulance Trust for making the re-opening possible."

Now that the helipad has been re-opened, critically ill and injured patients in need of emergency treatment can be transferred by air ambulance directly to the hospital helipad which is on the doorstep of the A&E department - significantly reducing secondary transfer times and saving lives. In an emergency every second of every minute of every hour counts and when the clock starts ticking off the minutes of the 'Golden Hour', the difference between life and death is often a fast flying helicopter with appropriate landing facilities.

The re-opening of the helipad also means that critical care to critical care transfers - where patients are transferred from one hospital to another for specialist treatment - will be made quicker a safer as patients can be flown directly to and from Gloucestershire Royal Hospital.

Commenting on the helipad Robert Bertram, charity director at County Air Ambulance Trust, said: "This project is unique in the fact that a facility was already in place but it was unable to be used due to new CAA rules. It was extremely important to us and everyone involved that the helipad became operational again, and we're delighted to see it back in action. This is our third completed project since establishing the HELP Appeal and is one of many in a countrywide programme that we are currently fundraising for.

"Being able to fly directly to the A&E department will make a huge difference for patients across Gloucestershire and the surrounding counties. Our Appeal really does help to save lives so please donate whatever you can by calling 0800 3898 999 or visit www.helpappeal.co.uk. You never know when you or someone you love might need a life saving helipad."

The HELP Appeal relies entirely on charitable donations and fundraising efforts to finance new hospital helipad and update existing facilities is well underway across Gloucestershire and the rest of the country. The HELP Appeal is urging local businesses and members of the public to get behind this life-saving campaign and to donating as much as they can afford. Donations can be made by calling 0800 3898 999 or by visiting www.helpappeal.co.uk.