Top honour for SECAmb paramedic
Top honour for SECAmb paramedic
Tuesday, 19 June, 2012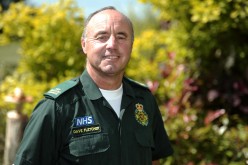 A long-serving South East Coast Ambulance Service NHS Foundation Trust (SECAmb) paramedic is one of just five ambulance personnel across the UK to be presented with a Queen's Ambulance Service Medal in this year's Queen's Birthday Honours.

Dave Fletcher, who served as a paramedic for more than 36 years is, among the first to receive the medal, with this being the first year it has been awarded.

Dave was nominated for his commitment and pioneering work on resuscitation at SECAmb which led to the introduction of a new resuscitation technique, Protocol C, across the Trust. The compressions-only CPR, supported by early defibrillation, has hugely improved outcomes for patients across SECAmb's region of Sussex, Surrey and Kent.

Dave worked closely with throughout his career with Consultant Cardiologist Professor Douglas Chamberlain to improve out-of-hospital resuscitation survival rates across SECAmb's region and from early on in his career acquired a reputation as one of best pre-hospital clinicians.

Dave said: "To hear that that my name had been announced in the Queen's Birthday Honours List during the Jubilee year was an absolute delight. I'd like to take this opportunity to pass on my sincere thanks to everyone I've worked with at SECAmb and pay tribute to Professor Chamberlain who has been a real inspiration to me.

"The real award and privilege for me of course, is to read report after report of the lives SECAmb staff have saved. SECAmb teams have saved and changed the lives of so many people. One can ask of no more from any career!"

SECAmb Chief Executive Paul Sutton said: "Dave is very deserving of this award and a perfect recipient to be chosen the first time ambulance personnel have been recognised in this way. I would like to express both my personal congratulations and that of the Trust for his commitment and dedication over many years."