Tiny makes major headlines
Tiny makes major headlines
Tuesday, 08 May, 2012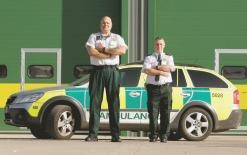 Tiny Dodd Photo credit: South West News


A Herefordshire paramedic received a 'tiny' bit of media attention after the national media picked up on him winning a Chief Officers Commendation, which was also featured in last month's Ambulance Life.

Lincoln 'Tiny' Dodd, who is 6ft 8in, was first on scene after an emergency call from a couple who were trapped on the first floor of their home, after an arson attack.

The 41-year-old stood on tip toes under an open window and urged the wife to use him as a human ladder and stand on his shoulders so she could get down safely. Tiny then helped her husband to safety too.

Speaking in the Sun newspaper, Lincoln, said: "I just did what came naturally, I didn't really think about it. The fire was so fierce the paintwork was blistering. It must have looked like a circus act to anyone watching me carrying people standing on my shoulders. But they got out alive and that's the main thing."