South Western Ambulance Service NHS Foundation Trust volunteer wins top award
South Western Ambulance Service NHS Foundation Trust volunteer wins top award
Monday, 30 April, 2012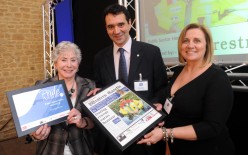 courtesy of Western Gazette - Dr James Hickman is pictured with Valerie Singleton and Lynne Fernquest, editor of the Western Gazette
A volunteer with the South Western Ambulance Service NHS Foundation Trust (SWASFT) has picked up a top honour at the Western Gazette Pride Awards, held at the end of April.

Dr James Hickman is a volunteer with the Somerset Accident Voluntary Emergency Service (SAVES). SAVES is a network of doctors specially trained to deal with emergencies outside of the hospital at the request of the ambulance service.
Dr Hickman claimed the Public Sector Hero Award for his ongoing voluntary work with SWASFT, including attending the tragic crash on the M5 in Somerset in November 2011 and helping to save a man whose arm had become trapped in machinery.

The incident involving a man whose arm had become trapped in machinery took place on Dr Hickman's day off from his GP surgery at North Curry Health Centre near Taunton, Somerset. The casualty was trapped on a gantry more than 100ft in the air at a site in Langport and after an hour of trying to free him, Dr Hickman decided the only way to save him was to amputate.

Dr Hickman said: "I was involved in a difficult incident at a feed mill where a worker had his arm trapped in machinery high on a gantry within the building.
"Working together with the air ambulance crew and the fire service we were able to free the gentleman only by amputating the lower part of his arm."

Speaking about winning the Public Sector Hero category at the Western Gazette Pride Awards Dr Hickman added: "I am delighted to have received this award for the recognition that it brings to the work of SAVES.
"SAVES is a charity that supports a group of specially trained volunteer doctors, who work with the ambulance service in Somerset, attending incidents to support ambulance personnel at the scene.
"I would really like to consider this award as an award for all of the doctors who work in SAVES and the similar schemes that we work closely with in the south west and around the country under the umbrella of BASICS, the British Association for Immediate Care."