ParAid Medical enhances CEGA's neo-natal capability
ParAid Medical enhances CEGA's neo-natal capability
Friday, 27 April, 2012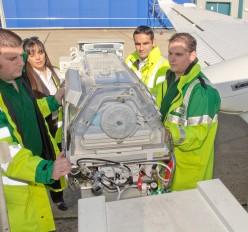 CEGA help load new ParAid equipment on to the aircraft
CEGA Air Ambulance has updated its onboard equipment with a ParAid Medical hi-tech aerosled for the specialist transport of critically-ill babies.

After conducting routine equipment checks, the critical aviation emergency service which provides swift emergency transfers for patients throughout the UK, recognised a need to improve its flight medical products to continue to maintain high safety and comfort standards. ParAid has provided a bespoke incubator aerosled together with a fixed height transport trolley to the service which will be used for critical condition neo-natal patient transport.

The trolley is tailor made for fixed wing aircraft transfer use. The equipment partners an incubator and a trolley which ensures the most economical use of the limited space available and provides efficient and immediate transfer directly from the aircraft to the emergency unit of the hospital destination.

Stuart Cox, Senior Nurse at CEGA Air Ambulance service, said:

"Our patient safety standards are regulated by the Care Quality Commission (CQC) and using ParAid equipment has allowed us to comply with the aviation and clinical regulations as well as improving patient comfort and making the duties of our medical flight crew much simpler.

"We must train all emergency staff and flight crew on how to use the medical equipment, including flight simulation training, and we've found that this process is uncomplicated when using ParAid products. We trust the products made by ParAid and will continue to use their products as they are well suited for our medical transport needs."

Darryl Smith, Operations Director at ParAid Medical, said: "We take pride in being able to provide CEGA with customized, specialist equipment that will help to safely transfer patients across their far-reaching service area."