London's Air Ambulance launches Interactive Mission Map
London's Air Ambulance launches Interactive Mission Map
Thursday, 19 April, 2012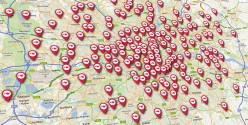 London's Air Ambulance, the Charity which runs London's Helicopter Emergency Medical Service, has today launched an Interactive Mission Map on its website. Each postcode area will show a breakdown of missions that London's Air Ambulance has attended in that vicinity since 1st January 2012.

London's Air Ambulance attends over 2,000 missions in the Capital per year. It only tends to those patients who are critically injured patients and in whom every minute counts.. Missions commonly involve serious road traffic collisions, falls from heights, incidents on the rail network and assaults. The postcodes in the map represent approximate areas and are not exact locations.

The aim of the map is to create awareness of the type of injury and the areas covered by the London's Air Ambulance Charity. London's Air Ambulance serves the whole of London, within the M25 - over 10 million people who live, work and commute daily. The medical team, which includes a senior trauma doctor and a paramedic, carry out procedures at the roadside, such as open chest surgery, blood transfusions and anaesthesia, that are normally only found in the hospital emergency departments.

The London's Air Ambulance team provide 24 hour care to Londoners, using a helicopter by day and rapid response cars by night to deliver its medical expertise when it is needed most.

In 2011, these were the top twenty postcodes requiring the medical expertise of the London's Air Ambulance's medical teams.

SE1 42 SW11 25
E17 41 E16 23
W1 41 EC1 23
N1 36 N7 23
CR0 34 SE17 23
NW1 34 SW1 23
NW10 31 SE15 22
E1 28 E8 21
E6 27 N17 21
SW2 27 SE10 21


Commenting on the 2011 statistics, Dr Gareth Davies, Medical Director and Chair of the Trustees, said: "By giving our audience a snapshot of the work that we do, we really hope that this map will highlight just how much work the Charity does and the vital role it plays in helping to save the lives of people in London. '"