LAS responder is fastest
LAS responder is fastest
Tuesday, 10 April, 2012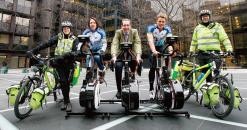 Left to right Nicky Czwartos, Rebecca Romero, James Cracknell and Matt Childs


London Ambulance Service NHS Trust cycle responder Nicky Czwartos was crowned 'fastest woman in the City' in February after outpacing over 100 other competitors at a Square Mile event, including former world champion pursuit cyclist and Beijing Games winner Rebecca Romero MBE.

The Smithfield cycle responder won a place on Ride Across Britain, a 960-mile cycle ride from Land's End to John O'Groats, led by another Olympic Gold medalist James Cracknell. The nineday, charity team event takes place in September
.
Nicky said: "I was on duty with a colleague when we came across James Cracknell and Rebecca Romero hosting a cycling challenge in Finsbury Square. Initially they asked if they could take a photo of us with our bikes.

"People were being invited to see how fast they could complete 250 metres on an exercise bike as part of a challenge. I had a quick go and did it in 16.5 seconds. I'm not sure how but my time was better than Rebecca Romero's. I don't think she was trying that hard!"