Defib web finder
Defib web finder
Tuesday, 10 April, 2012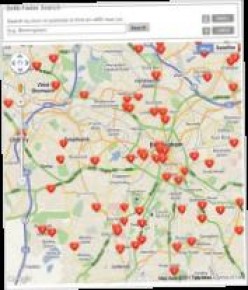 Screen shot of www.defibfinder.co.uk

West Midlands Ambulance Service, working in collaboration with Safeheart UK and the Community Heartbeat charity, has recently launched a unique website that could help save lives.

Defib Finder (www.defibfinder.co.uk) is a one of a kind website that allows members of the public to find out where their nearest defibrillator is in relation to their home, work, or wherever they may be.

This simple to use website allows a user to search for their nearest defibrillator by simply typing in a postcode or area name and clicking search. The finder will not only show all the defibrillators in the vicinity but it also provides directions to the location (either by car or by foot) and will provide a contact name for the defibrillator.

The website, which has been in the making for the last three years, currently covers the West Midlands Region (Birmingham, Black Country, Coventry, Warwickshire, Staffordshire, Shropshire, Herefordshire and Worcestershire) only. However, it is hoped that in the future the website will hold the national database.

Behind the scenes, the website produces numerous reports that can be of use to ambulance services and other organisations. For example it can demonstrate when a defibrillator was last used, how many people are trained to use specific device, when each defibrillator is due for a maintenance check amongst many other useful tools.

Current figures suggest that nationally only 3-4% of those who suffer cardiac arrests survive, however within the West Midlands Region this rate is currently approximately 45%. Speaking about the launch of Defibfinder Jim O'Halleran, Chairman of Safeheart UK said: "We are delighted that through working in partnership with West Midlands Ambulance Service and the Community Heartbeat charity we have achieved this first step towards the creation of a national database of public access defibrillators. If this website can help save lives then the work put into creating it will have been well worth all the effort."