Regional ambulance chief picks up award
Regional ambulance chief picks up award
Thursday, 05 April, 2012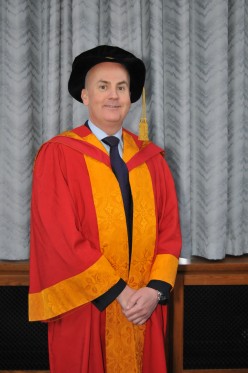 One of the emergency services' leading lights has been awarded an honorary degree by the University of Wolverhampton.
Anthony Marsh, Chief Executive Officer of West Midlands Ambulance Service NHS Trust, received an Honorary Degree of Doctor of Science.

The award was made by the university's School of Health and Wellbeing in recognition of his exceptional contribution to the Emergency Preparedness of the United Kingdom and his vision and leadership in the development of an outstanding ambulance service for the people of the West Midlands.

Anthony said: "I am very honoured to receive this distinguished award. I am delighted to have been able to work with partner organisations to help develop the programmes of work at the university.
"As is the case in actual serious or major incidents, it is the close working relationships between the different responders on scene that leads to a successful outcome; the same has been true in the development of the courses at the University of Wolverhampton.
"I am also very pleased to receive this award on behalf of all of the staff and volunteers that make up West Midlands Ambulance Service. We have been one of the top rated ambulance services in the country for many years.

"Over the last year we have seen significant improvements in clinical performance, the quality of care provided and our governance arrangements. In addition, we have exceeded our financial duties and met or surpassed all of our national and local operational performance targets.

"I believe that we all have the ability to make a fundamental change to the lives of the people we serve, wherever we work, and I am certain that that is exactly what we will all strive to continue to do."

Anthony started his Ambulance Service career at Essex Ambulance Service in 1987 and qualified as an Ambulance Paramedic in 1990. He held a number of senior posts with the Ambulance Service in Hampshire, Lancashire and Greater Manchester before returning to Essex as Chief Executive Officer in 2003. Relocating to the West Midlands, Anthony took up his current role in 2006.

In 2011, Anthony was decorated with the Order of St John. In addition to his responsibilities as Chief Executive he was elected Chair of the Association of Air Ambulances and is the lead for the National Ambulance Resilience Board.
On behalf of the Association of Ambulance Chief Executives, Anthony holds the National Portfolio for Emergency Planning, Response and Resilience. He is also the Lead for Ambulance Service Olympic Planning and is a Regional and National Cadre Gold Commander.

Anthony holds a Master of Science in Strategic Leadership and a Master of Business Administration (MBA).

He received the honorary award at a graduation ceremony at the Wolverhampton Grand Theatre on Thursday, April 5 2012.