Generous local charities 'beat' donation target to fund life saving chest compression devices.
Generous local charities 'beat' donation target to fund life saving chest compression devices.
Thursday, 05 April, 2012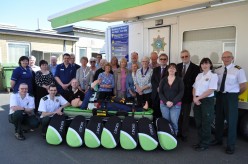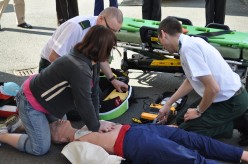 The Department of Health has been able to purchase 13 LUCAS Chest Compression devices for use across the Island, thanks to generous donations totalling £120,000 from six local charities. The LUCAS devices can be used as part of cardio pulmonary resuscitation (CPR) efforts when someone's heart has stopped. The LUCAS devices operate electronically and are far superior to manual methods.

The latest UK resuscitation guidelines recommend that generally people need to push harder and faster to a rate of 100 - 120 compressions a minute when providing chest compressions in an attempt to save life. Rescuers who are providing chest compressions tire after only one minute and compressions can diminish to only 80% efficiency after this time, dropping to 20% after five minutes.

Minister for Health, David Anderson MHK said: "This generous donation from six local healthcare charities have enabled the Department to purchase the latest state of the art equipment in the field of resuscitation. Many people will be familiar with the campaign with footballer Vinnie Jones that has been running over the past few months, to push 'hard and fast' when resuscitating someone who's heart has stopped. Of course, pushing 'hard and fast' can take a great deal of effort, and people can quickly become tired during this critical period. These LUCAS machines perform the same function but obviously don't tire and can provide exactly right pressure and number of compressions required. My thanks to the charities involved and those who have fundraised and the families of those who have left bequests, enabling the charities to grant these funds to the Department. Also my thanks and a very well done to the team who presented such a successful business case to the charities and secured the donations."

The LUCAS Chest Compression Device is driven by battery or mains power and operates by pushing and pulling a piston attached to a suction cup on a person's chest to provide mechanical compressions in line with latest guidelines for resuscitation.

Paramedic Clinical Supervisor Steve Crowe, said: "'When a heart needs a helping hand lets beat together hard and fast!'; that was my plea and I'm delighted that it's been answered by six very generous charities. A presentation with an accompanying business case was made to various charities on the Island in January with an aim to raise just over £100,000 to purchase 11 LUCAS Chest Compression Devices and consumables. So generous were the charities, however, that we have been able to purchase 13 units at a cost of almost £120,000!"

This project has been made possible due to the generosity of the following charities:

• Henry Bloom Noble Healthcare Trust

• Isle of Man Branch of the British Heart Foundation

• League of Friends of Noble's Hospital

• League of Friends of Ramsey and District Cottage Hospital

• Ramsey Cottage Hospital Welfare Trustees

• Microgaming Health and Care Trust.

The 13 LUCAS Chest Compression Devices will be in use across the Island throughout the Ambulance Service, Noble's Hospital and Ramsey and District Cottage Hospital, to provide quality chest compressions during the most critical time in the chain of survival during a cardiac arrest (when a person's heart stopped beating).

During a recent survey on the Island, Ambulance crews spent 33 minutes providing chest compressions on average at scene and during the transport phase; not even the strongest of staff can sustain quality CPR for periods like this. The LUCAS unit never tires and is consistent, and by using battery power means there are minimal interruptions to chest compressions reducing the time off the chest during transport.

Steve added, "As well as the physiological benefits of LUCAS, such as increased blood pressure to the brain, heart and other vital organs, the LUCAS allows the ambulance and hospital clinicians to concentrate on the many advanced treatments that can be administered, effectively freeing up a pair of hands. The safety of our Ambulance Crews will also be greatly increased during the transport phase of a resuscitation attempt to the hospital, as they will no longer need to stand for periods unsecured in the back of a moving ambulance providing chest compressions."

It is estimated that the units will assist in at least 100 cardiac arrests per year on the Island, both on the scene/en-route to hospital and in hospital.

Training staff will commence during the last week in March. It is anticipated around 100 people will be trained to use the LUCAS within the Department of Health, and rollout is being phased in from 1st April 2012.

Steve concluded by saying "I would personally like to thank the individuals from the various charities who have been so generous, for helping take this vision from the initial talks and business case to reality, in such a short space of time, to provide Island wide coverage of LUCAS. This is one piece of kit that will be in use straight away and increase the patients' chance of survival."

Chief Ambulance Officer, Steve Sieling commented, "This project is typical of the good work that is undertaken by local charities in connection with Government Departments in providing vital resources as and when they are needed. With the generosity of the named charities we continue to ensure that the best equipment is available to treat life threatening emergencies. At the same time this creates a safer working environment for our crews."