Life-saving Machines at Indian Restaurant Chain
Life-saving Machines at Indian Restaurant Chain
Tuesday, 14 February, 2012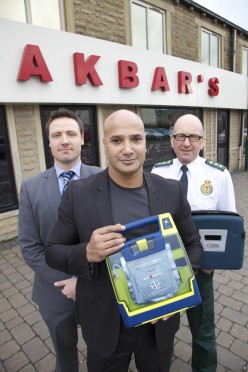 Left to right - Shaun Ingram MD of Cardiac Science, Shabir Hussain owner of the Akbar's chain and David Smith from Yorkshire Ambulance Service with one of the life-saving defibrillators at the Akbar's restaurant in Bradford
Bradford restaurant chain, Akbar's, has become the first in the UK to install an automated external defibrillator (AED) in all its UK venues, including its flagship restaurant in Bradford in West Yorkshire.

The devices are proven life savers for people who experience sudden cardiac arrest and the automated nature of the devices means that they can be used by almost anyone in the event of such a medical emergency, providing vital support for the local community prior to the arrival of an ambulance.

Yorkshire Ambulance Service NHS Trust has been working closely with Akbar's on the project and will assist with the placement of the AEDs on the premises and provide staff at the sites with training in basic life-support and the use of the defibrillators.

David Smith, Locality Manager for Network Response at Yorkshire Ambulance Service, said the move would be life-saving. "Every second counts when someone is in cardiac arrest and the first few minutes are critical. If effective treatment can be performed within those minutes, lives can be saved and disability reduced. After calling 999, effective chest compressions are key and with the added benefit of having an AED on site, a patient's chance of survival dramatically increases.

"We are delighted that Akbar's has chosen to join the network of organisations across Yorkshire with whom we have developed similar partnerships to ensure that community resuscitation is widely available, socially accepted and encouraged as an everyday skill."

Shabir Hussain, who owns the Akbar's chain, explained the reasons for the five-figure investment. "We have thousands of people coming through our restaurants every week and numerous employees. It's important that in the event of a sudden cardiac arrest we are able to respond. But this is about a wider community safeguard. Anyone on the street outside our restaurants or down the road could now call on us to be first on the scene."

Shaun Ingram, MD of Cardiac Science, the AED manufacturers, welcomed Akbar's decision, but said more high street awareness was needed. "Akbar's has set the pace for this which will hopefully encourage others to consider getting involved."

The AEDs give the ambulance service precious time to get to someone with a sudden cardiac arrest, by enabling a lay person to administer the treatment needed quickly. Shaun Ingram added: "No technical or medical skills or experience are required. The device talks you through the whole operation step by step."

Sudden cardiac arrest is the biggest killer in the UK with 91,000 victims each year*. Eighty per cent of those happen outside hospitals and of those the survival rate is less than 5%. However, when the patient receives early defibrillation their chance of survival increases.

In the United States, which benefits from legislation governing their deployment, AEDs are widely installed in public. In this country there is no such mandate so the majority of public places do not have them.