Putting pain into words
Putting pain into words
Friday, 03 February, 2012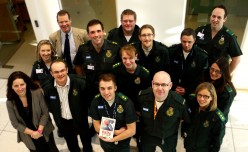 Clinicians and contributors to the Trust's pain book


A new book written by East of England Ambulance Service NHS Trust paramedics to help deliver high quality care for patients has been launched.

The group of front-line staff who have contributed to 'Pain: an ambulance perspective' were presented with their own copies this month and guests also heard about how pain management for patients was an area that needed more focus in the ambulance care arena.

Edited by clinical managers Tracy Nicholls and Lucas Hawkes-Frost, the book is the first of its kind covering areas such as assessing and measuring pain, medication, children and pain, and pain relief in the elderly. Every clinical member of staff in the region will receive a book and publishers Class Publishing will be selling the book to all good bookshops and online book suppliers.

As part of its ongoing programme to improve pain management the Trust is also exploring further pain management interventions.

The Trust's Consultant Paramedic John Martin said: "As clinicians we should be putting the complexity of pain in physical, emotional and cognitive contexts and how to manage it best for the patient.

"It's also important the group of people involved in this huge project are recognised for their invaluable contribution. A lot of hard work went into this and of course we hope it benefits any clinician who uses it."
Chief Executive Hayden Newton added: "I'm immensely proud of those behind this project - an awful lot of work went into what is a thorough and well thought out book.

"Our patients deserve the highest quality care, and pain management is such a big part of this. By focusing staff on this area of care, we aim to help patients more and more and make their experience as comfortable as possible."