LAS clinician wins top award
LAS clinician wins top award
Monday, 31 October, 2011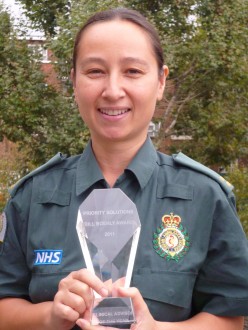 Andrea Ray


A London Ambulance Service clinical telephone advisor has been recognised for her hard work and commitment to patient care.

Andrea Ray, who worked on the road treating patients for six years before joining the clinical telephone advice team in 2009, won the 'clinical advisor of the year' award from Priority Solutions - the company that produces the computer support software.

Her role involves giving medical advice over the phone to people who have called 999 but might not necessarily need an ambulance.

Quality Assurance Manager Dave Treleaven said: "I nominated Andrea for her hard work and commitment to patient care and particularly for the way she handled a call when a patient went into cardiac arrest. She stayed on the line providing emotional support as well as instructing the caller to perform cardiopulmonary resuscitation, when the caller was initially reluctant."

Andrea said: "I'm really honoured to receive this award. I work with a really supportive team and they all work very hard. I enjoy my job, but it can be challenging sometimes - you have to be able to visualise everything as you can't see the patient. I try to put a bit of myself and my personality into the job too."

Andrea deals with around 20 calls during a typical 12-hour shift. She added: "Sending an ambulance crew to a patient is not always the most appropriate thing to do, or the best thing for the patient, which is where my role comes in. Some callers just need reassurance, others need advice about where they can get appropriate medical care such as a walk-in centre or urgent care centre and a small number do actually require the attention of an ambulance crew."