Norvic acquires Allied Medical Support
Norvic acquires Allied Medical Support
Tuesday, 25 October, 2011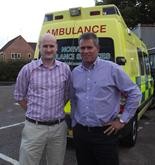 Norvic Group has announced its acquisition of Allied Medical Services (AMS) as part of its planned expansion. AMS, based in Wakes Colne near Colchester, provides a range of specialist medical services, including event medical cover, critical care response and transfers and aeromedical retrieval.

John Banbury, Norvic's Chief Executive, said "We are delighted that AMS have agreed to come on board. The calibre of people joining us is very high. Their skills, knowledge and experience will further strengthen the clinical credibility of Norvic."

Dr Aaron Pennell, a former Director of AMS, has been appointed as Associate Director for Specialist Medical Services and Deputy Medical Director. He will spearhead this new division of Norvic Group along with Andy Ford who has been appointed as Associate Director for Event Medical Services and Deputy Clinical Director.

John added "We will be rebranding AMS as Norvic Events during the next few weeks and we're looking forward to becoming one of the leading event medical companies in the region."