Proud Ambulance Staff Celebrate Long Service
Proud Ambulance Staff Celebrate Long Service
Tuesday, 05 July, 2011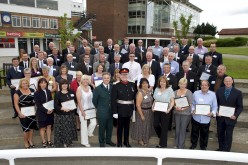 Pictured with the long servers is (front centre) the Queen's Representative Deputy Lieutenant of West Yorkshire Stanley M. Hardy Esq. Pictured right of him is Yorkshire Ambulance Service's Chief Executive David Whiting and to the left of him is Vice Chair
Over 60 members of staff from Yorkshire Ambulance Service NHS Trust who, between them, have clocked up over 1,600 years of service were honoured at a Long Service and Retirement Awards ceremony.

The special event took place on Friday 1 July 2011 at Wetherby Racecourse, where the Queen's Representative, Deputy Lieutenant of West Yorkshire Stanley M. Hardy Esq. presented the awards alongside the Trust's Chief Executive David Whiting and Vice Chair Pat Drake.

Tribute was paid to the dedicated and caring staff from across the region, many of whom have spent much of their working lives in the ambulance service.

The accolades include the Queen's Long Service and Good Conduct Medal for 20 years exemplary frontline emergency service and the Yorkshire Ambulance Service 20 year Long Service Award for non-frontline duties.

Individuals also being honoured at the event are those who have reached their 30 and 40 year service milestones, as well as those who are retiring with a significant length of service with the ambulance service.

Speaking about the awards David Whiting said: "These awards recognise outstanding commitment to duty and I would like to congratulate and thank each recipient for their valuable years of service.

"People think that the ambulance service is just about ambulances with blue lights, but we value the dedication of our staff who work behind the scenes just as much. These awards offer us a great opportunity to recognise the tremendous achievements of staff from all areas of the organisation including those working in our 999 communications centres, non-emergency transport service and within support services.

"Our staff are without doubt our greatest asset and work extremely hard to provide the very best possible care to our patients. Each and every one of them is a credit to our service and the public they serve."

A wide range of ambulance memorabilia such as photos, old uniforms and equipment was on display at the event along with four emergency vehicles spanning 126 years of the service including a horse-drawn ambulance from 1885.