Cornwall Air Ambulance prepares for a busy summer season ahead
Cornwall Air Ambulance prepares for a busy summer season ahead
Monday, 23 May, 2011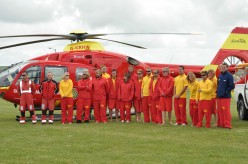 RNLI lifeguards patrolling the county's busiest beaches have been receiving crucial training from Cornwall Air Ambulance paramedics and aircrew.

In preparation for a busy season ahead, the air ambulance and its crew has been taking part in training sessions to ensure any casualties are transferred from shore to helicopter to hospital as swiftly as possible.

The training aims to educate RNLI lifeguards about the equipment on board the craft and how to keep members of the public safe when the helicopter has to land and take off from a busy stretch of beach.

Paula Martin, chief executive of Cornwall Air Ambulance Trust, said: "This training is really important to ensure our RNLI partners understand how the helicopter and its equipment works and how to keep everyone safe during take off and landing.

"It's also really helpful for the crew and lifeguards to meet each other and build a rapport so that any beach rescue that requires an airlift can be as slick as possible."

Steve Instance, RNLI Divisional Lifeguard Inspector says: "Many of the 57 beaches the RNLI lifeguards provide safety cover on in Cornwall are remote and hard to access and especially in the summer season when the county's roads are busy, the charity's lifeguards rely on the swift response from the Cornwall Air Ambulance crew.

"These training exercises make up an essential part of their pre-season induction and are important, as an understanding of how each team operates will mean they work can efficiently together during a real life situation."

Air ambulance statistics have also been released for the April double bank holiday. The helicopter was tasked to attend 44 emergency call outs over the 10-day period, airlifting nine children in that time.

Of these incidents, five were to attend road traffic collisions, three were surf or beach-based and two were equestrian casualties.

The busiest days were Good Friday, April 22 and May Day bank holiday, Monday, May 2, with five call outs on each day.

The paramedic team, funded by Cornwall Air Ambulance Trust, are now preparing for half term and end of May bank holiday.

During this time of year, the team's hours are also extended to cover 12 each day as lighter evenings and swelling tourism population add to the paramedic's workload.

Paula Martin added: "The summer months are very busy for the helicopter and its team, who often can cover five or more incidents in one day.

"Surfing, water sports, horse-riding accidents and road traffic collisions are often reasons why the air ambulance is tasked, particularly where the helicopter can transport a patient quickly and safely to hospital.

"During this season, it is more crucial than ever that we are supported by visitors and members of the public to keep the air ambulance flying."

Cornwall Air Ambulance is the first of its kind to be set up in the UK, and since it was established has flown more than 22,000 missions.

It costs more than £1.5 million each year to operate the helicopter.