Trauma conference a success
Trauma conference a success
Tuesday, 19 April, 2011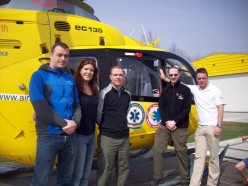 Left to right - Gareth Grier, Anne Weaver, Adam Chesters, Laurie Phillipson and Peter Temesvari
Members of the Essex and Hertfordshire Air Ambulance Trust (EHAAT) team came back from Hungary last month after giving presentations at a pre-hospital and emergency care conference organised by ex EHAAT HEMS Registrar, Doctor Peter Temesvari.

Following Peter's rotation with EHAAT, Peter went to London HEMS for six months before returning to his homeland and taking up the role of managing director for an organisation providing seven air ambulances within Hungary. Consultants Gareth Grier and Anne Weaver, both of whom lead on clinical governance in EHAAT, Dr Adam Chesters who also flies with EHAAT, critical care paramedic Laurie Phillipson, joined fellow London HEMS registrars and paramedics who were guest speakers at the event. Approximately 100 delegates from the specialities of emergency and pre-hospital medicine attended the event.

On his return, Laurie said: "'I felt honoured to have been invited and to be given the opportunity of representing the East of England Ambulance Service at such an event. The subject of my presentation was about what the UK paramedic brings to the trauma victim. I was able to talk about the skills and career pathways of the modern paramedic as well as the critical care delivered by our air assets. Pre-hospital care in Hungary and the UK has some significant differences and the conference provided an excellent opportunity for the representatives from both nations to learn from each other."

If you require any further info please get in touch with Laurie on laurie.phillipson@eastamb.nhs.uk To view Laurie's presentation go towww.prezi.com
and search on 'trauma care'.