Paul hangs up his stethoscope
Paul hangs up his stethoscope
Tuesday, 19 April, 2011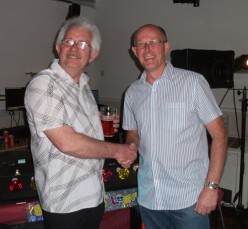 Paul (left) with Keith Foster at the leaving party
After completing a mammoth 27 continuous years service, East of England Ambulance Service Cheshunt based emergency medical technician Paul Clayden has moved on to pastures new.

Last month, a special leaving party was held at Cheshunt ambulance station and Paul was joined by his friends and family who wished him well for the future. An excellent speech was given by his close friend and work colleague Keith Foster, who talked about Pauls career to date. Keith also presented Paul with gifts and presents from his work colleagues.

Paul holds a record in itself to work continuously at the same station for so many years, one of which he is very proud of. Everyone within the South East Hertfordshire wishes Paul and his family all the very best for the future and a very happy retirement.